Helping Houston, TX, Clients With Premises Liability Claims 
Negligent property maintenance can sometimes lead to serious accidents. If you've been injured on someone else's property, you're likely to be facing medical bills, lost wages, and a great deal of emotional distress. And if the property owner was at fault for the accident, you have a right to seek financial compensation for these losses by filing a premises liability claim.
But wading into the unfamiliar waters of Texas premises liability law can be daunting without a lawyer to guide you and handle the claim for you. An experienced premises liability lawyer can investigate the accident, calculate the value of your damages, retain expert witnesses, collect evidence to build a strong case and negotiate with the insurance company on your behalf. Meanwhile, you can focus on recovering your health and returning to normal daily life.
With most premises liability claims, the victim's chances of recovering a fair settlement greatly increase with an experienced attorney by their side. In this article, we'll look in detail at how a Houston premises liability lawyer can help with your claim and when you should consider hiring one.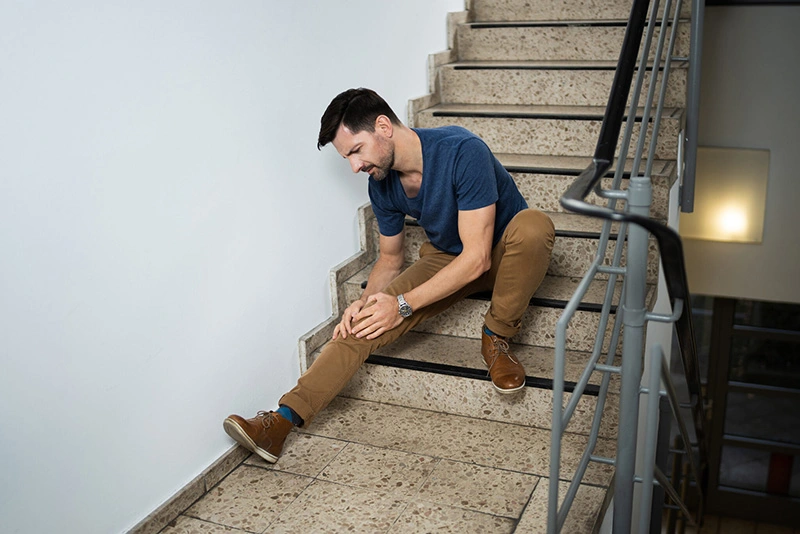 Why You Need a Houston Slip & Fall Accident Lawyer
If you recently suffered an injury on someone else's property in Houston or Sugar Land, it's natural to feel uncertain about what you should do next. The best thing you can do is to contact an experienced Houston premises liability lawyer as soon as possible to discuss your injury and determine your best options for legal recourse. Property owners who allow their properties to remain in disrepair or who fail to address known safety issues must be held accountable when their negligence results in injuries to lawful visitors.
Your Houston premises liability lawyer will review your claim in detail and help you determine whether the property owner in question failed to address a foreseeable safety hazard. This could include a hidden ditch or divot that caused a broken ankle, a damaged staircase that caused a falling injury, or toxic chemical exposure due to a broken appliance or utility fixture. These are just a few examples of how property owner negligence can result in premises liability claims. Again, you can rely on your Houston premises liability lawyer to help you determine the best path toward recovery in this type of situation.
Understanding Property Owners' Duty of Care
It's essential to understand how the term "duty of care" applies in premises liability claims. The concept of "foreseeable" is central to most premises liability claims. This means that for a plaintiff to succeed with a premises liability claim, they must prove that the element of the property owner's premises that caused their injury was a foreseeable safety hazard. When a property owner notices such a hazard, they must correct it immediately, take steps to prevent lawful visitors from encountering it or provide reasonable warning of the hazard to lawful visitors.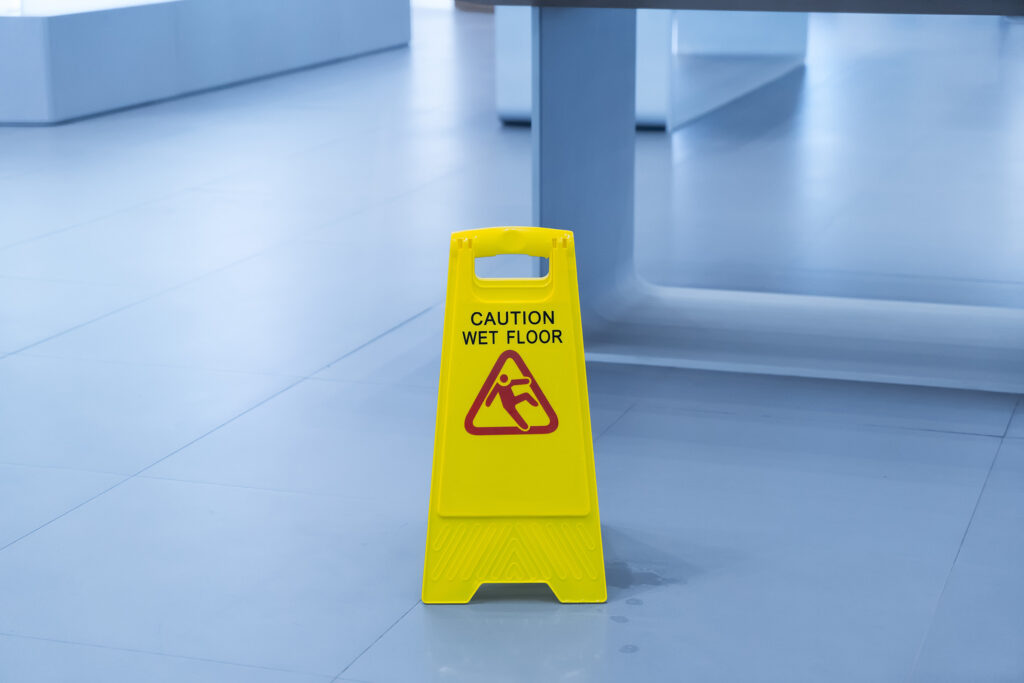 To succeed with a premises liability claim, the plaintiff and their Houston slip and fall lawyer must prove a specific safety issue caused the plaintiff's injury. Next, they must prove that the property owner failed to take appropriate action to address the safety issue. This means establishing that the safety hazard was a recognizable and foreseeable hazard to lawful visitors. Finally, just like any other personal injury claim, the plaintiff and their attorney must also provide evidence showing the full range of their claimed damages and proof that those damages resulted from the property owner's failure to maintain reasonably safe premises and not some other cause. 
Have You Experienced One of The Following Accidents?
There are many different kinds of premises liability accidents. Some common examples are injuries or illnesses caused by defective property conditions or inadequate maintenance, slip-and-fall accidents, elevator accidents, escalator accidents, negligent security, swimming pool accidents, and toxic fumes or chemical leakage.
Accidents from snow and ice are also a potential threat, as are fires, flooding, dog bites, and wrongful death on someone else's premises. Whatever the accident, if it was caused by negligence on behalf of the property owner, then you can pursue compensation with a premises liability claim.
But premises liability laws vary from state to state. And the complexities of these cases are often difficult to handle without local legal representation. So if your premises liability accident occurred in Houston, TX, you should consider hiring a Houston premises liability attorney to deal with the insurance provider and seek fair compensation for your injuries.
Damages and Compensation for a Premises Liability Claim
If you decide to take legal action against a property owner for a premises liability claim, your Houston premises liability lawyer will help you determine the full scope of the damages you can claim. Typically, these damages will include:
Medical expenses. You have the right to compensation for your immediate and future medical expenses resulting from your premises liability injury. This includes hospital bills, ambulance fees, and other immediate health care-related costs, as well as anticipated future medical costs. If you sustained a severe injury, you could expect compensation for any long-term treatment your injury will require.

Lost income. Your injury may force you to remain home from work while you recover, and you can claim wages lost during this recovery time. If your injury caused a permanent disability that leaves you unable to work at all in the future, you can claim compensation for the income you would have reasonably expected to earn until retirement age had your injury not occurred.

Pain and suffering. Texas law allows personal injury plaintiffs to recover compensation for physical pain, emotional suffering, and psychological trauma resulting from personal injuries. Your Houston slip and fall lawyer may consult with an expert witness to help you calculate a reasonable figure to include in your lawsuit.
Ultimately, working with an experienced and reliable Houston premises liability attorney could result in much more compensation than you initially expected. Therefore, if you believe you have grounds for a premises liability claim in Houston, Sugar Land, or any surrounding area in Texas, it's vital to consult with a Houston premises liability lawyer as soon as possible to begin filing your case. 
Is Your Claim Is Being Disputed?
All property owners in the US have a legal duty to protect people from hazards on their property. If any kind of dangerous condition develops, it's the property owner's responsibility to fix the hazard or at least warn visitors about it.
In most premises liability cases, the accident victim must prove that the property owner failed in this duty of care for their visitors. They acted with negligence, which resulted in the victim's injury. To win your premises liability case, you must prove that such negligence occurred. But it isn't always easy to do so.
Oftentimes, the defendant and their insurance company will dispute the validity of your claim. If your claim is disputed, you'll need to investigate the accident thoroughly and gather enough evidence to persuade a jury of the property owner's liability for your injury. This is often a long uphill struggle that claimants find difficult to undergo alone.
Why Premises Liability Claims Can Be Hard To Prove
The insurance provider may dispute that your injury occurred on the defendant's property, or they may dispute the severity of your injuries. So you'll first need to prove that the full extent of your injuries resulted from your accident on the defendant's property, which can sometimes be difficult in and of itself.
Even when the nature and cause of your injuries aren't in dispute, the real challenge often arises in proving that the property owner acted negligently: that they failed in their legal responsibility to provide a reasonable level of care for the safety of their visitors. It may be the case that your own actions were partially responsible for the accident.
The insurer might accuse you of having acted with negligent carelessness. They might also accuse you of improperly accessing the property or somehow improperly using the property. If you're found to be guilty of this kind of contributory negligence, the value of your claim might be reduced or even destroyed.
For the property owner to have acted with negligence, you must also prove that they could have foreseen the accident. In a slip-and-fall incident, for example, a puddle of water on the ground that caused the slip might have been spilled by another customer moments before. In this case, the property owner might have had no chance to predict, notice, or remedy the dangerous condition.
Your Attorney Knows the Intricacies of Texas Law
When negligence and liability are disputed in a premises liability accident, the case can become exceedingly complex. When the accident occurred in Houston or nearby, the best course of action is almost always to hire a Houston premises liability lawyer or law firm to help gain clarity and argue the validity of your claim.
An experienced Houston premises liability attorney knows the local law inside out. They can help you understand your rights and legal options and can thoroughly investigate your accident. They may then be able to overcome any disputes and win you the full compensation you deserve.
You Need Help Gathering Evidence
When you file your premises liability claim with the insurance company, they're unlikely to offer compensation if you have no evidence that the accident happened as you say it did. And gathering the necessary evidence can be more difficult in premises liability cases than in other types of personal injury claims.
With car accidents, for instance, the victim usually has the police report to support the facts of their claim. They also often have eyewitness accounts and surveillance camera footage.
With premises liability, if luck is on your side, a third-party eyewitness or operating surveillance camera was present when the accident occurred. But unfortunately, the only witness to an accident on someone else's property is often the victim themselves.
Furthermore, people tend to be more aware of proper procedures directly following a car accident: drivers know what to do in the event of a collision. Car accident victims are more likely to immediately take photos and videos at the scene of the accident. But when suffering an injury on someone else's property, shocked victims frequently forget to capture this vital at-the-scene evidence.
Your Lawyer Can Collect Evidence For You
An experienced premises liability attorney will most likely have successfully worked with many similar cases to yours. Drawing upon their resources and experience, they may be able to gather sufficient evidence to prove your claim, even when evidence is seemingly lacking.
For example, your attorney may be able to obtain records of the property's history of managing safety conditions. And if you failed to take photos of the accident site and the dangerous conditions have since been repaired, your lawyer may find witnesses who can attest to the conditions as they were when your accident happened.
They may also be able to seek out communication records proving that the property owner knew of the dangerous condition. And they can also seek to obtain the lease or property documentation that proves the defendant is responsible for the property.
Gather Evidence To Prove Your Damages
Lawyers are also experts at collecting evidence to prove the full extent of an accident victim's damages. Hospital bills may be used to prove your medical expenses. Pay stubs, tax records, and a letter from your employer can often help prove lost wages.
Statements from doctors or psychologists may also be used to prove how dramatically your injuries have impacted your life. The testimony of a friend, colleague, or family member might serve the same purpose. Any such evidence is best gathered sooner rather than later before memories fade and evidence becomes lost.
Premises Liability Lawyers Have Access to Expert Witnesses
Expert witness testimony can often be of enormous value in a premises liability case. And the best Houston premises liability attorneys have a network of local expert witnesses to call upon.
Building engineers can demonstrate the existence of structural hazards. Building inspectors can identify where safety codes have been violated. Flooring experts can highlight the specific hazard in slip-and-fall premises liability accidents. And accident reconstruction experts can use computer modeling to visually recreate an accident before a judge and jury.
Medical experts can also often be used to help verify the severity of a victim's injuries and estimate the future medical costs of ongoing treatment. And vocational experts may attest to how extensively a victim's income has been disrupted by the accident.
It's usually wise to consult with a lawyer to understand which expert witnesses are best suited to your case. Without a premises liability lawyer, it can be difficult to know how to find expert witnesses and use them effectively.
Have You Suffered a Serious Injury?
The more serious the injury, the greater your medical expenses are likely to be. With head injuries, spinal cord injuries, nerve damage, severe burns, multiple fractures, and other serious injuries, treatment and medical bills can rapidly mount and continue for months or even years.
It's therefore crucial to get the maximum compensation for your medical costs, including your future medical costs. If you accept the very first settlement offer from the insurance company, you might receive a shortfall of the money that runs out before your medical costs do.
Experienced premises liability lawyers are experts at calculating future medical costs for severe injuries, often with the help of various specialist medical professionals. Once they've estimated the total figure, they can negotiate with the insurer and do their best to prove your medical treatment damages and win full and fair compensation for them.
Are You Unsure What Other Damages To Claim?
Premises liability accidents can result in many different kinds of harms and losses. Apart from medical treatment costs and lost income from missed work, you're also likely to have suffered a great deal of physical pain and suffering. And the experience may have caused you stress and mental anguish as well.
Non-Economic Damages
Emotional distress and pain and suffering are common non-economic damages. And it's fair for victims to pursue financial recompense for these more subjective kinds of losses.
There may also be other non-economic damages applicable to your case. You may be able to recover damages for inconvenience, physical disability or impairment, loss of enjoyment in life, or loss of consortium: harm to your important relationships and social support structures. This last damage can be particularly important in wrongful death cases.
Possible Punitive Damages
In cases where the dangerous condition resulted from willful wrongdoing, recklessness, or gross negligence on behalf of the property owner, you might be able to claim punitive damages in court. Punitive damages are additional damages designed to punish the defendant and deter similar future behavior.
Before consulting with an attorney, accident victims are often unaware of all the damages they can seek to recover from the person responsible for their injuries. But your law firm or lawyer may be able to help ensure that you don't leave any damages out of your claim.
Will You Need To Take Your Case to Court?
With most premises liability accidents, the case is settled out of court. But the injured victim will sometimes need to go all the way and file a lawsuit. If you're considering taking the property owner to court with a premises liability lawsuit, hiring a law firm or lawyer with a strong understanding of premises liability law may well increase your chances of success.
When selecting an attorney for the task, bear in mind that not all Houston premises liability lawyers have experience trying cases in court. It's worth taking the time to find a local Houston premises liability attorney who has a good deal of experience trying and winning similar court cases to yours in Texas.
When To Take the Property Owner to Court
Premises liability lawsuits are usually only necessary when the insurance adjusters won't agree to a settlement sufficient to cover all of the victim's damages. If this is your situation, your lawyer might deem it necessary to try your case before a judge and jury.
There are a few other situations that might merit a lawsuit. If your premises liability lawyer thinks the person responsible for your losses acted with gross negligence or willful wrongdoing, then you might have good cause for a court case. In this situation, you might be able to win additional punitive damages, which are usually only awarded in court.
Experienced Premises Liability Lawyers Fighting for Victims of Slip & Fall Accidents in Houston
The slip and fall attorneys at Houston Injury Lawyers, PLLC, have years of experience handling the most challenging civil claims on behalf of our clients. We understand that you likely have many questions about your legal options following a premises liability injury. Our goal is to help you approach your case with greater confidence and understanding. We strive to maximize each client's recovery as much as possible and provide our clients with peace of mind as they navigate difficult civil claims. Rest assured that if you choose Houston Injury Lawyers, PLLC, to represent your premises liability claim, we will do everything in our power to help you recover as quickly and fully as possible.
If you've been injured on someone else's property and you need the assistance of an experienced premises liability lawyer, contact Houston Injury Lawyers, PLLC today at 936-251-5246. We can guide you through the entire claims process and will do our utmost to win the full and fair compensation you deserve.