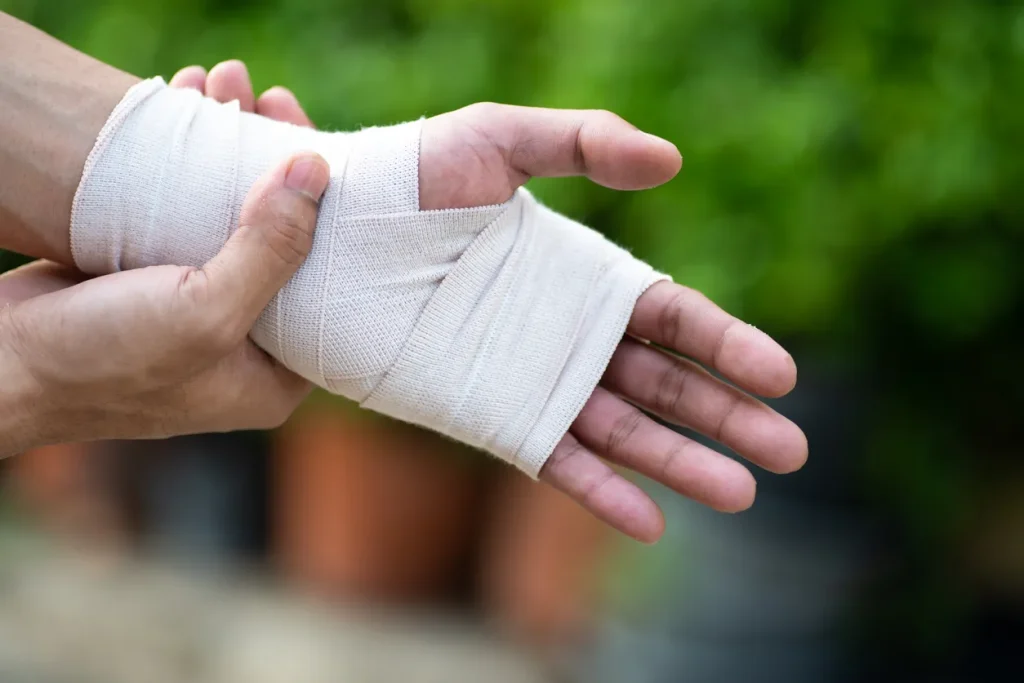 When an accident strikes, and you are left dealing with injuries and financial problems that were unforeseen and unplanned it can feel very overwhelming. On top of your pain and mental suffering, medical bills may begin to mount up and you may have to replace damaged property.
Under the laws of Texas, if you find yourself in this situation, dealing with an accident that was not your fault, you may be entitled to seek compensation for your damages via a personal injury claim.
In these circumstances, your smartest move is to consult a Cuero personal injury lawyer. With their experience and knowledge of the complex personal injury laws of Texas, they will be able to help you raise your claim and seek full compensation to the best of their abilities.
Houston Injury Lawyers, PLLC – Your First Call When You Need a Reputable Cuero Personal Injury Lawyer
Here at the Houston Injury Lawyers, PLLC, we are fierce advocates for our clients. We have fought and won numerous cases over our years serving the state of Texas.
We prioritize our relationship with our clients. This means we will strive to provide a compassionate ear when you need it and we will endeavor to take the time to keep you informed, every step of the way.
As personal injury lawyers, we are confident in our abilities both in and out of the courtroom. We know how to calculate your damages in the most accurate way, making it more likely that you will get the compensation you deserve. We are ready to fight your corner in court, convincing the judge that you deserve to recover the full amount of damages you are seeking.
Give us a call at 936-251-5246 for a free consultation regarding legal aid.
The Different Types of Personal Injury Damages
In a personal injury claim, your legal representation will calculate what they believe your damages to be worth. They will do this by working out first what your tangible losses are. Things like medical bills and property damage are clear and easy to work out as they have a physical cost attached to them. To help them with this, you should remember to keep all receipts.
Next, they will use their knowledge and experience to calculate the damages that do not have a physical cost attached.
The main damages they will consider during these calculations are as follows:
Medical Bills
Unfortunately, even with a good level of medical insurance coverage, serious injuries can easily lead to medical bills that quickly surpass your coverage. You should not have to worry about affording the treatment, surgery, or therapy that you need as a result of the accident, especially as it was not your fault.
It is really important that you keep all of your receipts and medical bills. This will make it easier for your Cuero personal injury lawyers to assess and calculate your damages. As well as your bills for medical treatment and therapy, make sure you keep receipts for things like transport to and from the hospital.
It is also a smart idea to keep documentation of your treatment. A diary of how much pain you are in and how you are feeling on a daily basis will also prove extremely useful, especially when it comes to calculating your pain and suffering damages. Photographic evidence of your injuries can also help demonstrate your pain and suffering.
Lost Wages
Most injuries that result from a personal injury accident are going to require you to take time off work to some degree.
At the very least, you can claim back all your lost wages from the moment the accident happened, to when you are able to go back to work. However, if your injury means that you can no longer work in the same capacity, or you are going to require more time off work in the future, you can claim for this as well.
If you will not be able to return to work full stop, you can claim a lifetime of lost wages in the future.
Pain and Suffering
Pain and suffering damages are calculated without tangible sums attached. Emotional trauma does not have a specific cost attached for example. These are the damages that will require a skilled Cuero personal injury lawyer to calculate. The more experience they have in similar cases, the more skillful they will be at calculating non-economic damages like this.
Pain and suffering damages can include things like mental trauma, for example, if you were involved in a car accident and as a result, you are scared of getting behind the wheel again, you can claim for your suffering.
Other examples include things like a loss of enjoyment of life. If you play catch with your son on a daily basis and your injury means you can no longer toss a ball, your enjoyment of life may be affected and you should be compensated for this.
The Personal Injury Process in Cuero, TX
To begin with, you are going to need to seek legal aid from a skilled Cuero personal injury lawyer. Whilst you can seek compensation alone, your chances of seeking, and winning the maximum compensation are drastically increased with skilled legal representation.
Step One – Free Consultation
Here at the Houston Injury Lawyers, PLLC, we offer a free consultation, and we recommend that you always choose a law firm that offers this service. In the free consultation, you get a chance to ask us any questions you have and judge whether or not you feel comfortable and confident in our skills. We will use this time to evaluate your case and advise you on what we think is the best course of action specifically for your situation.
Step Two – Agree To Representation
Once you have agreed to legal representation, your chosen personal injury lawyer will waste no time. We will begin investigating on your behalf immediately, utilizing our experience and contacts to start the process of building a strong case on your behalf.
Step Three – Investigation and Evidence Collection
We will liaise with both your, and the other parties' insurance companies and loss adjusters. We will also collate your evidence and speak to any witnesses that were at the scene and we will calculate your damages in a concise and accurate way that is difficult to dispute.
Step Four – Calculating the Damages and Sending Settlement Offers
For the damage calculation, your attorney will take all of your economic damages, such as medical bills and property damage, and all of your non-economic damages, such as mental trauma and loss of enjoyment of life, and calculate the total worth.
To do this they will add up the things that have a physical cost and then multiply it depending upon the severity of your pain and suffering. This will give them an accurate representation of your total damages incurred.
Now your attorney will send this figure to the other party. The more accurately they have calculated your damages, the more difficult it will be to dispute.
Step Five – Filing a Lawsuit
If the other party decides to decline this offer, you will move into the next stage. At this point, your Cuero personal injury lawyer will use all of the evidence they have and the case they have built to convince the court that your settlement figure is fair and reasonable.
If the court agrees, they will award you the compensation figure you are seeking.
Assigning Liability and Negligence
With the help of your attorney, you will need to prove that the other party owed you a duty of care and that they breached it through their negligent behavior in order to win your case.
Negligent behavior is behavior that is seen as different from how a reasonable individual would act in the same situation. If someone knew that there was a loose electrical wire on their public property and they did not signpost it or fix it and somebody is electrocuted then this is negligence. A reasonable person would take steps to ensure nobody was harmed.
The Importance of Legal Representation
There is nothing to say that you cannot represent yourself and seek compensation without the assistance of a personal injury attorney.
However, alone, your chances of success are lower and in the majority of cases, your compensation will end up being lower too. People often fall under the common misconception that they will win more without having to pay their legal fees but this is usually false.
With representation, your chances of winning full and maximum compensation are much higher and this means that even with our fee deduction, most people walk away with more money in their pocket.
Besides the fact that you may win more compensation, victims often underestimate the time and effort that a case will take. On top of that, you may be dealing with mental and emotional trauma, making it difficult to commit your full attention to the case. You will also be up against incredibly aggressive and highly trained loss adjusters and legal teams that work for the insurance company.
For these reasons we highly recommend that you seek representation for your personal injury claim.
Common Personal Injury Cases
Whilst we have seen a wide variety of injury types over the years, these are the most common forms of personal injury that we see on a day-day basis:
Car Accident Claims
The most common form of personal injury claim in the state of Texas is car accidents. Every single year thousands of victims claim for injuries that result from the negligent behavior of other drivers.
Slip and Fall Accidents
Another extremely common personal injury case is slip and fall accidents. Falling from height can cause a variety of injuries that lead to long periods out of work. Injuries can include broken bones, neck, and spinal injuries and in the worst cases, Traumatic Brain Injuries or fatalities.
Medical Malpractice
Unfortunately, even though our medical professionals are trained to a high standard, medical malpractice is still a common occurrence. When medical professionals deviate from the standard medical practices they have been taught or act without due care, the results can be serious.
In the most severe of cases, people may have been sent for the wrong surgery, had medical items left inside their body, or have been misdiagnosed and mistreated.
Workplace Accidents
Workplace accidents can lead to complex and tricky to deal with personal injury cases. They may happen due to a lack of safety measures or insufficient training, both of which may mean the employer is liable. Another possibility may be malfunctioning or defective equipment, in which case the manufacturer may be liable.
Cuero Personal Injury FAQs
How Long Will My Case Take To Settle?
The time it takes your personal injury claim to settle will depend upon the damages, the circumstances, and the situation. The more complex these factors are, the longer it will take your case to complete.
Are There Requirements on Which Doctor I Have To See?
You have the right to go to whatever healthcare professional you wish. The only exception to this is if you have been injured in the workplace. With workplace injuries, you may have to use your work occupational health and partnered medical professionals.
If My Car or Motorbike Needs Repair, Do I Have To Use The Insurance Companies Repair Shop?
You are not required to use your insurance company's chosen repair shops so do not let them bully you into doing so. Many people prefer to use their own reputable repair shop. Make sure you keep all records and receipts of the repairs though.
Should I Speak With an Insurance Adjuster?
Whilst it may be impossible to avoid speaking to an insurance company altogether, you should always be wary of what you say to them. Even your own insurance company has its best interests at heart and not yours. They may attempt to reduce payouts and liability by tricking you into saying something you should not have.
Contact us here at the Houston Injury Lawyers, PLLC
Here at the Houston Injury Lawyers, PLLC, our hard-working, dedicated team of attorneys has a history of success in similar cases. We have won favorable outcomes for a range of clients across numerous cases.
Our goal is to fight with compassion on behalf of our clients, seeking the maximum compensation that they rightfully deserve.
When you seek representation from us, you don't just get an attorney, you get a whole team. Our attorneys support each other and work together to tackle even the most difficult of cases.
We offer a free consultation to all clients so if you are unsure of what the best course of action is, give us a call today at 936-251-5246.