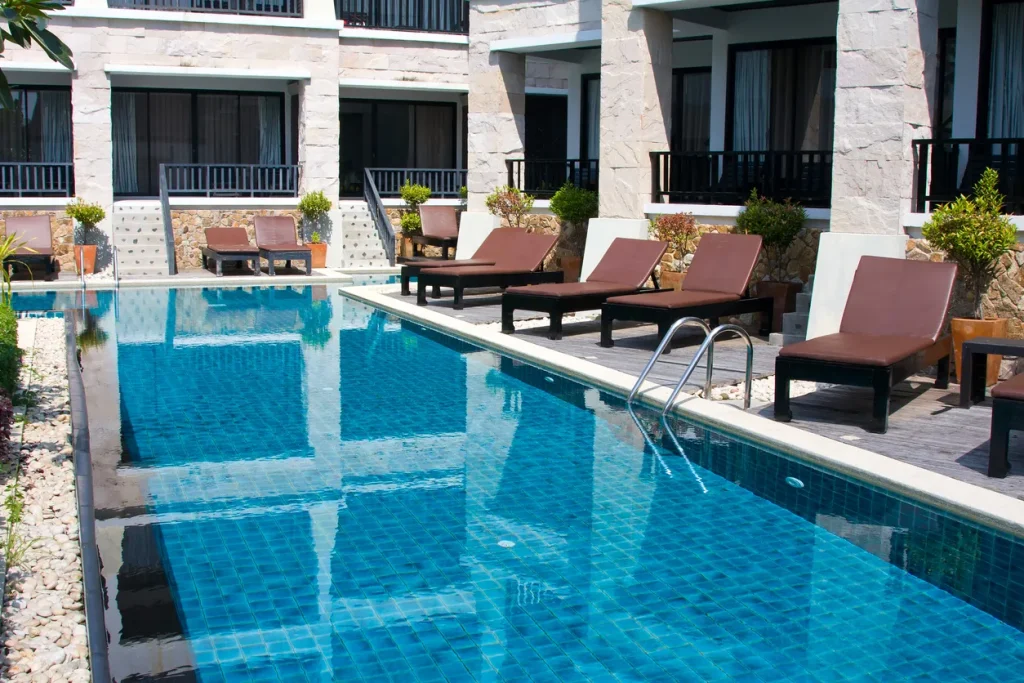 People who buy or rent apartments in Houston often look for complexes that provide a swimming pool. The relief from the heat and entertainment for children is a welcome addition for most people. But when swimming pool injuries occur, the results can be devastating.
Swimming pool owners owe a high duty of care to people who use their space; they must ensure that the area is secure, free from hazards, and adequately supervised. If they fail in their duty and an injury occurs as a result, then they could be liable for the victim's damages.
If you or someone you love has suffered an injury in an apartment complex, then you should speak to one of our swimming pool accident lawyers as soon as possible. We will fight to ensure that you are properly compensated while placing pressure on property owners to improve their practices and prevent more people from being injured in the future.
At Houston Injury Lawyers PLLC, we are committed to seeking justice for victims of personal injury and their families. We will fight fiercely to secure maximum compensation in your case so that you are not left out of pocket because of someone else's negligence. We believe that everyone deserves access to high-quality legal representation, which is why we offer a free consultation and work on a no-win, no-fee basis.
Arrange a free consultation with an experienced Houston swimming pool accident lawyer at 936-251-5246.
Types of Swimming Pool Accidents in Houston, Texas
The majority of swimming pool injuries are preventable. Yet according to the Consumer Product Safety Commission, around 5,700 children are admitted to hospitals each year for pool and spa accident injuries.
Common apartment swimming pool accidents include:
Slip and Fall Accident

– Slip and falls are common around pools due to slippery wet surfaces and someones occur due to dangerous behavior around the pool, such as running. Slip, and falls can cause a range of injuries, from broken bones to head trauma.

Near Drowning

– When someone is underwater, their brain is starved of oxygen; if they survive for more than 24 hours after being submersed, it is referred to as near drowning. Near drowning can cause brain damage and life-long injury and is often preventable with proper fencing and trained lifeguards.

Drowning

– If someone is submerged underwater and dies within the first 24 hours, then it is considered drowning. In these cases, families of victims may be able to recover compensation on their loved one's behalf.

Drowning by Entrapment

– Entrapment occurs when suction from the pool drain traps someone, usually children, underwater. When this happens, it is usually because the drain is poorly maintained or damaged, and the pool owner is usually liable for any injuries that result.

Electrical Defects

– A malfunctioning electric system such as a water filter or pool lighting, can have dangerous consequences. Water pumps have been known to explode and cause serious injury, and if lights have not been grounded properly, they could cause an electric shock.

Diving Board Injuries

– Diving boards can be hazardous if the water is too shallow or if the board itself is poorly maintained. Injuries from diving boards can be incredibly serious, leading to head injuries and even drowning.

Swimming Pool Slides

– Pool slides should be lots of fun for children, but when the water is too shallow or children are left unsupervised and use the equipment unsafely, serious injuries can result.

Pool Toy Entrapment

– Inflatable pool toys can flip or tangle and create a hazard for young or inexperienced swimmers. Trained lifeguards should be on duty to prevent serious injury from occurring.
How Do Apartment Swimming Pool Accidents Happen?
An apartment swimming pool should be a safe environment to relax and have fun, so how is it that accidents happen? Unfortunately, swimming pool accidents are usually preventable and both private and public swimming pools must adhere to strict safety standards to help keep people safe. Some of the most common reasons accidents happen are:
Inadequate fencing or gates left unlocked.

Overcrowded pool area.

Hazards around the pool.

No lifeguard on duty or a lack of proper training for lifeguards.

Defective pool equipment such as lights and filters.
Private Pool Liability
The Consumer Product Safety Commission provides guidelines on how to keep pool areas safe. The guidelines include proper barriers to prevent children from accessing pool areas. In Houston, a swimming pool fence should be at least 48″ high, with a maximum of 4″ gap, and should be made of a strong material such as glass, wood, or steel.
Whether or not the pool area in apartment complexes is open, it should be well maintained, safe, and have reasonable control measures. They should also warn guests of any potential dangers, such as a broken diving board. If a pool owner fails to adequately maintain a pool or keep it safe, then they could be found liable for negligence.
Are Pool Owners Liable For Trespassers?
Usually, pool owners do not owe a duty to people who trespass on their property unless the trespasser is a child. Swimming pools are considered an attractive nuisance, meaning they are likely to attract children, and so property owners must take precautions to prevent children from entering. This is because children are owed a higher duty of care than adults.
Although a child might be aware that they should not enter the pool of the apartment complex without an adult, if they find a gate unlocked, it could entice them in any way. They may not fully understand the dangers and become injured as a result. In this case, the pool may be considered an attractive nuisance, and although the child was trespassing, they may still be owed compensation.
Laws That Affect Liability After an Apartment Swimming Pool Injury in Houston
Property owners owe a duty of care to visitors, which means that they must take reasonable measures to ensure pool safety. When an accident happens in an apartment complex, common liable parties include the property owner, the management company, or a product manufacturer.
Each pool injury case is different, and there are often several factors and more than one liable party. Some of the laws that your Houston apartment pool injury lawyers may draw upon to establish liability include:
Willful Misconduct –

Willful misconduct is the intentional doing of a wrongful act or intentional failure to act. Examples could include a failure to hire fully qualified lifeguards or install adequate fencing.

The Virginia Graeme Baker Pool and Spa Safety Act (VGBA)

– The VGBA is a federal law that requires pool owners to adhere to strict safety standards designed to prevent pool injury and drownings. This includes ensuring that drain covers are of high standards, which is intended to prevent drain entrapment and child drowning.

Negligence Per Se –

Negligence per se is negligence because of a violation of a statute; it equates to greater liability than general negligence. An example could be a failure to ensure that lifeguards are fully trained.

Attractive Nuisance –

Attractive nuisance, as mentioned above, means that because pools are attractive to children, owners must take measures to prevent children from being able to enter the pool area when they are not supervised. –

Premises Liability Lawsuit –

Property owners have a duty to keep their property free from hazards. For example, if a diving board is broken and the pool owner does not warn visitors, then they could be found liable for any injuries that result.

Product Liability

– If a defective product, such as a drain or pool filter, caused an injury, then the product manufacturer could be liable for the resulting injuries.
What Our Houston Personal Injury Attorneys Can Do For You
If you or someone you love has suffered an injury in an apartment swimming pool, then you should seek legal representation as soon as you can. Navigating these matters alone can be incredibly stressful, and victims often end up with much less than what they deserve.
Apartment owners will be covered by large insurance companies with skilled legal teams. The best way to pressure compensation is to level the playing field by securing your own experienced representation.
At Houston Injury Lawyers, PLLC, we will handle every aspect of your case so that you can focus on your recovery and the well-being of your family. We will keep you as informed as you choose to be and will be prompt to answer your questions so that you can feel secure in the knowledge that everything possible is being done to help you.
Stage One – Free Consultation
We offer all personal injury victims and their families a free consultation. This is an opportunity for us to determine whether we believe you have a valid claim for compensation and give you some advice about what your next steps should be. It is also an opportunity for you to ask questions and gain clarity about your situation.
We offer this at no obligation; you may choose to walk away at this point armed with a deeper understanding than before. Or if we believe you have a valid claim and you agree to representation, we will move forward to the next stage.
Stage Two – Investigation
Once you have agreed to representation, we will get to work quickly to investigate your case. This involves collecting as much evidence as possible, as quickly as possible, before it disappears or becomes weaker.
Some of the evidence we will begin to collect will include:
Photos or videos of the scene, including the pool area, safety equipment, and fencing.

Police reports.

Medical records.

Pool maintenance records.

Witness interviews.

Staff records such as training and work schedules.

Testimony from experts to determine what caused the injury.

Records regarding any potentially defective equipment, such as the pool filter and pool lights.

Any history of swimming pool injury occurring on the same property.

Interviews from family members to help determine what impact the accident has had on their lives.

Interviews with medical and financial experts to determine the value of the victim's damages.
Stage Three – Determine Who is Liable and What You Are Owed
Using the evidence we collected, we will determine who is liable for your injuries and who you should seek compensation from. We will also work out what you are owed in compensation. We will ensure that your case is robust and that the settlement we are asking for is difficult to argue with.
Stage Four – Negotiating With Insurers
Whether the pool owner, a product manufacturer or a management company is responsible for your damages, it is likely that the negotiations will be with their insurance company. Insurance companies will fight to limit their liability and reduce the amount they have to pay out; in fact, they will have whole legal teams whose sole job it is to do just that.
An experienced pool injury lawyer will provide a settlement to the insurance company that is difficult to challenge. There may be some negotiations to find an agreement that everyone is happy with, but if a fair settlement cannot be reached, then your case may be taken to court.
Stage Five – Representing You in Court
If an agreement cannot be reached, then your attorney will fight your case in front of a Judge. Court cases are often lengthy and time-consuming, so it is not usually in either party's best interest to go to court, and most personal injury cases will settle. However, it is essential your attorney is [prepared to go to court otherwise, you could be left vulnerable.
It is also common for insurance adjusters to be aware of which attorneys are willing to go to court and which are not. When you have experienced representation, they may be more willing to offer a fair settlement rather than risk losing more in court.
How Much Can I Claim in Compensation After an Apartment Pool Injury?
Swimming pool injuries are often devastating and have long-term impacts on victims and their families. It is essential that both past and future expenses are taken into account and that you are properly compensated for the accident's emotional impact, as well as the financial hardship.
To ensure that you are properly compensated, you need a personal injury lawyer who will dedicate themselves to your case and fight for a settlement that is truly representative of your suffering.
Some of the damages your attorney will help you claim to include:
Medical Bills and Expenses, Past and Future
Following a serious pool injury, a victim may need a lifetime of specialized care and rehabilitation. It is, therefore, essential that both your past expenses and future medical costs are accounted for in your settlement.
Medical expenses should also cover all expenses related to treatment, including home adjustments, the cost of carers, medication, and transport to and from the hospital.
Lost Wages Past and Future
Whether you yourself were injured and needed to take time away from work, or you are unable to work because you are caring for your loved one, this should be compensated for. If your circumstances mean that you are unlikely to return to work in the same capacity, then you may also be compensated for a lifetime of lost earnings.
Pain and Suffering
Pain and suffering is the legal term for noneconomic damages such as your mental anguish, physical pain, and the long-term impact on your quality of life. These types of damages can often represent the highest figure in your settlement but require an experienced attorney to establish what you are owed and to provide sufficient evidence.
Wrongful Death
If you lost a loved one in a swimming pool accident, then you may be able to claim compensation in a wrongful death lawsuit. A wrongful death claim could compensate you for both your economic and non-economic losses.
Although no amount of money can ease your grief, it is important that you are not left in financial hardship because of a preventable accident. At Houston Injury Lawyers, PLLC, we understand the delicate nature of these cases and will do everything we can to secure justice on your behalf.
How Common Are Drowning Accidents in The United States?
According to statistics from the U.S. Centers for Disease Control (CDC), the United States sees around 8,080 nonfatal drowning accidents and 3,960 fatal drowning accidents every single year. These statistics are shocking and much higher than most people would think.
The United States average 22 nonfatal drowning incidents every day, and many of these accidents result in severe and life-changing injuries. These are the types of injuries that have a massive impact on both the victims and their families, who often become reasonable for the long-term care of their loved ones.
Unfortunately, the most common victims of swimming pool accidents are children; in fact, drowning is the leading cause of death for children under four. Swimming pool accidents can occur in a matter of seconds, so it is essential that proper safety measures are in place.
Although no amount of money can make up for what has happened, it can ensure that victims receive the best care and are not left in financial hardship because of the negligence of someone else.
Arrange a Free Consultation With One of Our Houston Apartment Pool Injury Lawyers Today
If you or someone you love has suffered a swimming pool injury in an apartment complex, then you should contact a personal injury lawyer as quickly as possible. We will quickly determine whether you may be owed compensation and will dedicate our time and resources to securing the best possible outcome in your case.
We will also determine how the accident could have been prevented and will put pressure on the liable party to change their practices and prevent other people from being injured in the future.
Call us today to arrange a free consultation at 936-251-5246.