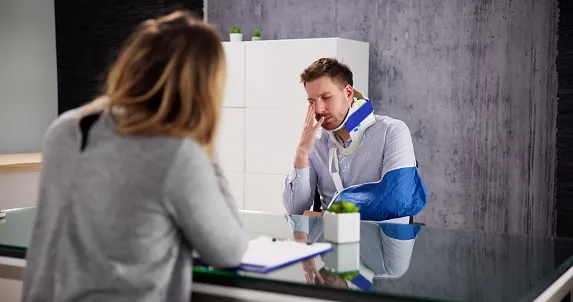 When dealing with the aftermath of an accident caused by the negligent actions of another party, it can be easy to get overwhelmed. For many victims, this is their first time dealing with a personal injury claim, and all of the rules and regulations that come alongside them.
Victims of accidents may have to take long periods of time off work, losing wages and income. You may have medical expenses to pay, especially if your insurance coverage is not sufficient.
You may be entitled to pursue the recovery of damages like this, and you may be entitled to seek compensation for the pain, suffering, and distress that you have been through as a result of your injuries.
When an accident happens in the state of Texas, and it has occurred due to negligence, i.e., the unreasonable behavior of someone who owed you a duty of care, a League City personal injury lawyer will be able to evaluate your case on your behalf.
They will know if it is worth pursuing and will be able to build your case, investigate on your behalf, calculate your damages and negotiate a settlement.
Personal injury cases are rarely simple, and this means that even the most experienced personal injury lawyer will have to work hard to fight your case. Insurance companies are not designed to pay out fairly.
To preserve their profits, they employ aggressive, skilled legal teams to fight against you and devalue your claims. To fight them, you need reliable representation from an attorney with as much skill and experience gained from past victories as possible.
Houston Injury Lawyers PLLC – Personal Injury Representation When You Need It Most
The immediate period following an injury is often the most important time for you to rest and recover. It is not the ideal time to educate yourself on personal injury laws and regulations. By securing representation, you will have an advocate behind you that is well versed in personal injury law and ready to educate and advise you.
Your League City personal injury lawyer will normally take over a lot of the work, such as filing your paperwork on time and correctly, investigating and building your case using strong evidence, and calculating the true value of what your damages are worth.
By calculating your damages in a way that most accurately represents your injuries, they will negotiate from a position of strength, making it more likely that you secure an out-of-court settlement you are happy with.
At Houston Injury Lawyers, PLLC, we dedicate our professional time to fighting on behalf of accident victims across the state of Texas. We cover the entire state, so we can assign a dedicated League City personal injury lawyer to your case if that is where your accident occurred. From wrongful death claims to serious injuries sustained at work, our League City injury attorneys are ready to help. To arrange a free case review from a law firm dedicated to personal injury cases, call 936-251-5246.
What to Do at The Scene of the Accident
At the scene of the accident, there are steps you can take to ensure you protect both your safety and your chances of a successful claim.
Prioritize your safety
First, your safety comes above all else. This means that before you think about anything else, check yourself for injuries. If you cannot remember what happened but feel pain in your neck, head, shoulders, or back, you need to remain still and wait for an ambulance. Do not let anyone move you until then, unless it is for your own safety given the environment.
Call an ambulance if there are injuries
Regardless of how bad the injuries seem, we always recommend that you call an ambulance to the scene. Shock and adrenaline may mean that a victim feels fine, unaware of the internal injuries they have suffered, only to find that when the shock wears off, they have a serious problem.
The ambulance team will ensure everyone is checked for hidden injuries and will usually also file an accident report that can often be used as a great piece of unbiased evidence. If you are seen on the scene, it also supports evidence of "causation," which we will talk about later in this article.
Call the police/fire department
For road accidents, especially ones that involve drunk drivers or drivers you believe to be under the influence of something, you must call the police. They can make the road safe for other users and can administer BAC tests to prove the at-fault party was indeed drunk.
The fire department should be called if the accident involved fire, gas, electricity, or explosion.
Collect evidence
With the relevant emergency services having been informed, if your injuries allow, you should consider collecting as much evidence as possible at the scene while it is still fresh.
An easy and efficient way to do this is to record a video of the scene while you talk over the top,  explaining what happened in your own words, and take photographs of the scene, damages, and injuries. This may ensure you have visual evidence and a statement recorded immediately on the scene, which you can confirm was accurate later on down the line.
If you were lucky enough to have eye-witnesses that are willing to help and co-operative, ask them if they mind you taking their details and statements.
Call your League City, TX personal injury lawyer
As soon as you get a suitable moment, you should call your attorney. They will be able to help you immediately and may offer some advice on things you should or should not do or say. The sooner they get involved, the better their chances of building the strongest possible case.
The Four Important Elements of a Personal Injury or Wrongful Death Claim
There are four separate elements that are important in any personal injury claim in the state of Texas. During the investigation stage, your attorney will look for evidence to support all four elements. If your case escalates to the courtroom, they will be expected to show the evidence for these elements in order for the courts to award you your damages and compensation.
Here are the four elements they will need to prove:
Duty of Care

– The person at-fault must have owed you a duty of care at the time they caused the accident.

Breach

– The person at fault must have breached the duty of care by acting in a negligent way.

Causation

– This negligent behavior must have caused your accident.

Damages

– This accident must have directly caused you the injuries you are claiming for and the damages you are seeking to recover.
Don't worry if you are unsure whether you can prove all of these elements or if the terminology confuses you. Your League City personal injury lawyer can explain them to you if you ask.
Definition of Negligence
One thing we recommend that you familiarize yourself with, is the concept of negligence. Negligence is the core of all personal injury claims, and proving that the other party acted negligently is the number one goal and hurdle for your case.
To act negligently, the other party must have owed you a duty of care at the time of the accident. A duty of care is a duty to act in a way that prevents others from coming to harm wherever possible. Common examples are the duty of care you assume to all other road users when you get behind the wheel of a car or the duty of care doctors assume to their patients.
To act negligently, a person must act in a way that is different from how a reasonable person would be seen to act in the same situation. If somebody ignores a speed sign that has been placed around an area with a lot of pedestrians and hits somebody and injures or kills them, this is negligence. A reasonable driver in the same situation would have slowed down to the signposted speed when they saw the sign.
Common Injuries that we see in Serious Accidents in Texas
Some of the more common injuries that we see here at Houston Injury Lawyers, PLLC, are:
Severe cuts and lacerations –

Blood loss is extremely serious, and large cuts and lacerations need to be handled quickly. They can leave nerve damage, serious scars, and long-term pain for victims.

Traumatic brain injury

— A traumatic brain injury may lead to life-long paralysis or disabilities.

Spinal cord injury

– Spinal damage may lead to the victim suffering full body paralysis or chronic pain forever.
Broken bones

– Broken bones, while often not life-threatening, require long periods of recovery. This means long periods of time off work, pain, and physical therapy. Complications may also lead to problems later on, such as impaired movement or disabilities.

Burn wounds

– Burn wounds can be the most painful injuries that a person can suffer. They can cause extreme nerve damage and infections, and leave permanent visible damage that often leave victims disfigured for the rest of their lives.
What are the Damages I Can Seek To Recover in a League City, TX Personal Injury Lawsuit
The damages you have suffered following the accident will need to be calculated in order for you to attempt to recover them. This is a job your attorney will do for you and a job that is always best done by an attorney with as much experience as possible.
The more victories and experience your attorney has, the more accurately they will be able to calculate your damages. The more accurately your damages are calculated and supported, the harder they are to argue against and the more likely you are to be awarded them, either in court or out of court.
Economic Damages
The first damages that need to be considered are your economic damages, the ones that you have had to pay for or will have to pay for. These damages will have a sum attached and a clear figure that can usually be used in the calculations.
When it comes to your economic damages, wherever possible, retain all copies of receipts and invoices so your attorney can support the sums they use.
Your economic damages include:
Lost Income/ Lost Wages
One of the most immediate and worrying damages personal injury victims might suffer is a loss of income due to time taken off work for physical injuries and medical treatment. You may be able to recover all past and future losses of wages. This means if you have suffered an injury that means you will never be able to return to work, your attorney may attempt to pursue a lifetime of lost earning potential.
Medical Bills
Often, even victims with a premium insurance policy are shocked at how quickly their coverage is exceeded when it comes to serious or complicated injuries and long-term treatment. When the coverage runs out, you may be left to find your medical bills yourself, out of your own pocket.
Your personal injury attorneys can help you calculate your medical bills and document your expenses. They may call upon expert witnesses to help them calculate what your long-term care might cost you and will pursue this figure.
You will need to ensure that you keep all bills, receipts, and invoices if you want to recover all of your costs.
We recommend keeping a journal of your pain and mood on a daily basis and documenting any treatment you have received that day to help your League City personal injury lawyer with their medical timeline.
Non-Economic Damages
Your non-economic damages are subjective damages that do not need to be paid for physically. These figures will come from your attorney's experience and judgment. They will calculate what they believe the pain and suffering you have been through is worth in terms of monetary compensation and add this to your settlement figure.
They include:
Pain and Suffering
Following your accident, you may be in a lot of pain and may have suffered mental distress and trauma. Compensation for this is known as pain and suffering damages.
When victims are in pain, their sleep, sex life, mood, and ability to function on a day-day basis suffer, and this should be considered when it comes to pursuing compensation.
Loss of Enjoyment of Life
If your injuries are serious enough, they may mean that you are prevented from taking part in hobbies, sports, or activities you used to enjoy. If you can no longer throw a ball, run in the park or drive your car, this is known as a loss of enjoyment of life, and you might be able to pursue compensation for this.
Common Personal Injury Case Types
We have dealt with almost every type of personal injury case here in League City. This means that no matter what injury you have sustained and no matter what form of accident you have been involved in, we have most likely dealt with a similar case. This experience gives us an edge when it comes to tailoring our approach to your specific circumstances.
Some of the most common cases include:
Car Accident Injuries
In Texas, car accidents lead to the most personal injury cases on a day-by-day basis. Due to the speed they travel and the weight and force they carry, car accidents have a prime chance of causing serious injuries to those involved.
More serious are DUI/DWI cases. When drivers get behind the wheel of their car whilst they are drunk, or under the influence of drugs, they have reduced reaction times and increase their chances of causing a fatality severely.
Every single 20 minutes across the state of Texas, there is a drunk driving accident. This adds up to terrifying statistics, 72 times a day, 504 times a week, equalling a staggering 2600+ drunk driving accidents a year.
Slip and Fall or Trip and Fall Injuries
Falling from height or slipping and tripping on spills or into excavations is another common accident that happens in Texas. From workplace accidents on construction sites to falls in the grocery store, these accidents are often preventable, which means someone has acted negligently.
Medical Malpractice Injuries
When you pay the extortionate costs that you pay in the United States for medical care, you expect the highest possible level of service, and unfortunately, this is often not the case. When your medical provider acts without due care and attention or deviates from the standards of medical expenses they are expected to follow, this is called medical malpractice.
Medical malpractice cases are extremely complex and often come with some of the worse possible injuries. Medical malpractice can involve patients being sent for the wrong surgery, given the wrong medication, or worse. This means the insurance companies behind the medical providers will be of the highest caliber.
Common forms of medical malpractice include:
Surgical Error – Your surgeons should be trained to the highest possible standards, as the tiniest mistakes during surgery may be fatal to the victim.
Failed and Delayed Diagnosis – Doctors should be trained so that they can accurately diagnose conditions when presented with the symptoms in a timely manner. When they fail to diagnose or take a long time to diagnose, the patient may not receive treatment in a timely enough manner for it to be highly effective.
Misdiagnosis – A misdiagnosis can often lead to a doctor prescribing the wrong medication. In the best case, this will simply mean the patient does not receive the right treatment, but in the worst cases, the wrong treatment can aggravate the condition.
Commercial Truck Driving Accidents
As they are loaded with cargo and usually weigh over twenty times that of a normal passenger car, commercial truck driving accidents tend to involve serious injuries and damages.
In order to reduce the number of these accidents, it is down to the trucking companies to ensure that their trucks are kept maintained and to monitor their drivers. Drivers should only be on the road for a certain length of time before they are forced to take breaks and should be trained well.
If they fail to maintain their trucks and the quality of their drivers, the trucking company itself may be found liable for the damages caused when a commercial truck accident happens.
As commercial truck accident payouts have a history of being substantial, the insurance companies used by trucking companies are always strong and aggressive and will do anything in their power to reduce the trucking companies' liability. This makes it important to find the best possible attorney for fighting your case against them.
Which League City, TX, Personal Injury Lawyer Should I Use?
The start of any personal injury claim will involve you deciding which law firm you want to represent you in your case. If you have never had the need for a lawyer before, this might seem like a difficult decision.
Here is what we would look for:
Past Experience and Proven Success in Similar Cases

– Your attorney should be able to show you their past victories in cases just like yours.

Time Management

– A good attorney will most likely have a full caseload most of the year. This makes time management an essential skill. They should know how many clients they can handle while maintaining the highest level of service. You should not expect around-the-clock access, but they should respond promptly and keep you informed.

Personable

– Personal injury cases often take several years to fully complete, and during this time, you will spend a lot of time talking to your attorney. This means it is always important to make sure that you get along well with your attorney and that your personalities do not clash.
League City, TX Personal Injury Lawyer FAQ
Call Houston Injury Lawyers, PLLC
At Houston Injury Lawyers, PLLC, we pride ourselves on being the strongest possible advocates for the victims of personal injury accidents. We take the time to educate each of our clients, keeping them informed and building a close and strong client-attorney relationship.
We have a long history of successful cases under our belts, and our reputation is well known. Insurance companies know that we won't settle for less, and we won't back down from a fight.
Contact a League City personal injury lawyer today for a free consultation and case evaluation at 936-251-5246