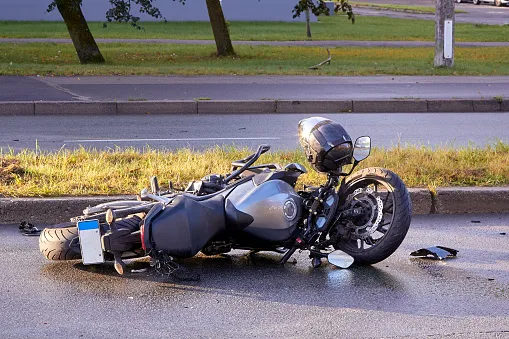 If you are a motorcyclist who was hit by a car or truck, you are likely suffering from bodily injuries and other damages. Motorcycle accidents are far more dangerous for motorcyclists than other drivers.
To recover all the compensation you are owed for your injuries and damages, you will need to work with a personal injury law office to file a lawsuit or settle with your insurance company.
Important Steps to Take After a Motorcycle Accident
Immediately after any car accident, there are several steps motorists should follow. From truck drivers recovering from a truck accident to motorcycle drivers who were hit by a car, these steps are essential to the recovery process after an accident. Following these steps will mean you can usually collect all relevant evidence later on.
Do not leave the accident scene. By leaving the scene of the accident, you may be forfeiting your right to claim compensation from your insurance provider or the other driver's insurance. Other important steps to take after you have been involved in a motorcycle crash include:
Contact Law Enforcement
Your first priority after a motorcycle accident is to contact law enforcement to file a police report. In Texas, you are obligated to contact the police after a crash, even if the individuals involved in the accident did not experience any significant injuries or damages. When you contact the police, law enforcement will make a crash report.
The crash report may contain information about each vehicle, weather conditions, road conditions, and other objective details. Police may also make initial determinations about whether any motorists were intoxicated or driving under the influence.
Be sure to get the badge numbers of the law enforcement officers who respond to your crash, as this will make it easier to gather evidence for your claim later on.
Exchange Information
Next, you will need to exchange information with the other driver or drivers involved in the accident. Exchanging information will ensure you will be able to contact the other motorist later on. For a truck driver, you may need to collect information about the trucker's employer.
A major part of this step is exchanging insurance information. In Texas, motorists are obligated to have car insurance. A car driver or motorcyclist who is operating a vehicle without insurance may be subject to certain penalties, particularly if another motorist was severely injured.
Alert Your Insurance Company
Next, you will need to alert your insurance provider about your accident. Filing a motorcycle accident claim gets the ball rolling for processing the funds you will need to recover from the accident, such as money to pay for medical treatment.
Alerting your insurance provider as soon as possible will usually help the insurance company process a claim more quickly.
Document the Accident
Another important step to take after motorcycle accidents is to document the accident to the best of your ability. Documentation may include witness accounts or photographic evidence of the damage to the motorcycle.
Even for a simple traffic accident, gathering this information will make it easier to file a claim or seek a settlement later on.
Seek Medical Attention
Finally, you will need to seek medical care after the accident. Even if you were not severely injured, it's still a good idea to seek medical attention after an accident. This is because emergency medical care is another way to document the accident.
In particular, the records about your medical treatment may be used to prove you were injured in the motorcycle accident. You may need this evidence when you are filing a lawsuit if the other motorist denies being responsible for your injuries.
Medical records may also include notes about any ongoing care, such as physical therapy, you may need to recover from the accident.
What Should You Avoid Doing After an Accident?
DO NOT ADMIT FAULT. After an accident, it's important to not admit fault in any way for the accident. An admission of fault to your insurance adjustor, family member, or friends through social media may undermine the validity of your claim. This is particularly true if you are filing a lawsuit under the comparative negligence doctrine.
So, what does it look like to admit fault? Expressing any guilt for the accident or apologizing for the accident may be misconstrued as taking responsibility for the accident. Any time you are speaking with anyone who is not your legal representative, you should stick to factual details or decline to answer.
Working with a Law Office Can Make Things Easier
Working with a law firm that specializes in vehicle injuries or personal injury lawsuits is one of the best things to do after an accident. Your lawyer will protect you and your interests. A legal team will also help collect evidence to prove your claim.
Do You Need a Lawyer When Speaking With Your Own Insurance Company?
Although your insurance provider should be on your side, there are many times when an insurance adjuster may want to deny your claim. An adjuster may also try to give you a lower settlement amount than you deserve. To get fair treatment from your insurance provider, it's best to ask your lawyer to speak with the adjuster on your behalf.
Common Injuries in Motorcycle Accidents
There are many injuries that are common to a motorcycle accident victim, such as lacerations and broken bones. Lower-extremity injuries of the pelvis and legs are among the most common types of injury. However, a motorcyclist is also likely to experience a severe injury, including loss of limb or even loss of life.
Catastrophic injuries include injuries that result in permanent disability or death. In terms of fatality rates, a motorcyclist is almost 30% more likely to be fatally injured in an accident. Finally, motorcyclists are at higher risk of spinal injuries, particularly compared to victims of car accidents and truck accidents.
Recovering Damages from a Motorcycle Accident
The legal process of filing a personal injury claim is designed to hold the at-fault driver accountable. In Texas, being held accountable for an accident may mean that each driver will be found partially responsible for causing the accident. This is a doctrine called comparative negligence and one of the reasons why you will need an experienced motorcycle accident lawyer.
Only an experienced personal injury lawyer will be able to use evidence about your case to prove your percentage of fault. In a comparative negligence case, the amount of compensation you receive is directly linked to your percentage of fault. The lower your fault percentage, the higher your settlement.
What Is Common Compensation After Motorcycle Crashes?
The compensation after surviving a motorcycle crash may be significant. Financial compensation after an accident is broken into two categories. While it's more likely to recover economic damages, the details about your motorcycle accident may also allow you to claim pain and suffering damages.
Economic Damages
This type of damage will generally seek to restore damages related to a victim's financial stability. For many, a settlement may include compensation for medical bills, lost wages, loss of future earning ability, and more. Sometimes, this compensation may also repair or restore a damaged motorcycle.
Non-Economic Damages
Although it's impossible to put a dollar amount on pain and suffering, courts in Texas do follow certain calculations to estimate these non-economic damages. Factors such as your quality of life, the pain of your injuries, and loss of interpersonal relationships are all considered. These pain and suffering damages may be added to the economic damages you may receive as part of your settlement.
What About Attorney's Fees?
In exchange for personal injury protection, you will generally be able to pay for your attorney's fees on contingency. A contingency fee essentially means that your lawyer will not be paid for legal services until you recover compensation for your injuries and damages.
After an accident, some of the first things you should do is contact the police to file a police report and seek medical care. As soon as you are able, it's also essential to contact a personal injury lawyer. Learn more about how an experienced attorney can help you recover damages after your motorcycle collision when you contact Houston Injury Lawyers, PLLC at 936-251-5246.