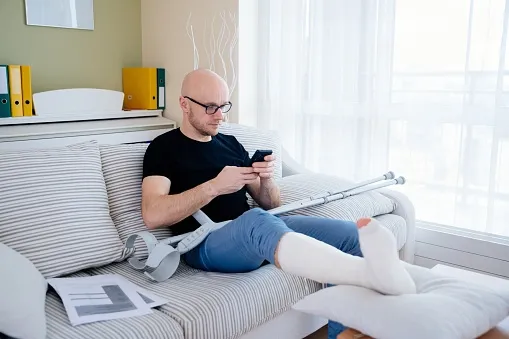 Following an accident caused by another party, your emotions are probably running high. You might be facing expensive medical costs due to the injuries you suffered, and you might need time off work to recover. You might also have damages to cover, like property damage or car repairs. All of these can cause a financial strain on top of the mental distress and physical pain you are in.
In the state of Texas, when an accident happens, and it is caused by the negligence of somebody else, the law is clear: you are entitled to seek compensation. With the help of a personal injury attorney, you can look to recover your damages and recompense for your pain and suffering.
However, personal injury claims are complicated due to the laws that are in place in Texas. Even experienced personal injury lawyers will have their work cut out for them, especially as most insurance companies employ teams of highly skilled and aggressive loss adjusters. Their sole job is to reduce the company's liability and discredit your claims. This is what makes seeking representation so important.
Houston Injury Lawyers PLLC – Personal Injury Representation When You Need It Most
While dealing with the injuries and trauma an accident has caused, it is hardly the right time to be educating yourself about personal injury law. Instead, you should be focusing on your health and recovery. When you secure representation, it allows you to take the time to breathe whilst your attorney liaises with all parties and fights your case for you.
Your personal injury claim will require a lot of investigation, paperwork, and back and forth between the parties involved. It's your lawyer's job to calculate what your damages are worth in a fair and reasonable manner, too, making your claims difficult to dispute. Finally, your attorney will be the one representing you in court if the case progresses into a full lawsuit.
Here at the Houston Injury Lawyers, PLLC, we understand the difficulty of the situation, and for that reason, we believe all victims should have the opportunity to obtain representation. To enable this, we work on a contingency fee basis, only taking our fees from your settlement if we win your case, and we offer a free initial consultation to all potential new clients.
This means that you can seek to recover your damages and claim the full and maximum compensation you deserve without the fear of being left worse off if you lose. We take on the risks, so you don't have to.
To arrange a free case review from a law firm dedicated to personal injury cases, call 936-251-5246, and we will assign an experienced personal injury lawyer to your case.
What are the Damages I Can Seek To Recover in a Richmond, TX Personal Injury Lawsuit
Helping you recover compensation and your damages is the main task your Richmond personal injury lawyers will undertake on your behalf.
The more experience your attorney has in past cases similar to yours, the better they will be at calculating settlement figures based upon your damages. The more accurate they are, the harder it will be to dispute the figure. This makes it more likely that you will receive an out-of-court settlement, or if you proceed to the courtroom, makes it more likely that the courts will award what you are seeking.
Economic Damage
Your economic damages are the easiest to calculate. Economic damages include medical bills and property damage and have a clear figure attached to them. This makes it easy to sum up what your economic damages are worth. The only thing to remember when it comes to economic damages is that you should keep all documentation so that your attorney can support their sums.
Your economic damages include:
Lost Income
Following an accident, it is likely that you have had to take time off work to recover, and often, victims have to take time off in the future for further treatment. If this has resulted in a loss of income for your household, you deserve to claim these losses back.
In serious personal injury claims, the victim may have physical injuries or mental injuries that prevent them from working in the same capacity for the rest of their lives. If this is the case, your attorney may pursue a lifetime of lost wages.
Medical Bills
Even if you are lucky enough to have a premium insurance policy, you may be surprised how quickly medical expenses can surpass your coverage. When this happens, you may be left to find the money to pay for your medical bills yourself.
Your Richmond personal injury attorney will help you to document your medical expenses, recovering all past and all future costs. If your injuries are going to require long-term treatment, your attorney will work with medical expenses to calculate what that looks like in terms of financial cost and pursue the recovery of this figure.
You will need to ensure that you keep all bills, receipts, and invoices if you want to recover all of your costs.
It is also a smart idea to record your pain, mood, and treatment in a daily diary throughout your recovery. This will make it a lot easier for your attorney when it comes to documenting the pain and suffering you have been through.
Non-Economic Damages
Next, your attorney will consider what your non-economic damages are worth. This is harder than calculating your economic damages, as these damages do not come with clear, easily summed-up figures.
Any damages that need to be evaluated that do not have price tags attached are non-economic damages. They cover things like your physical pain, emotional suffering, and loss of enjoyment of life.
Pain and Suffering
Following an accident, if you have suffered injuries, you were most likely in pain and distress. Pain and suffering damages compensate you for this.
When victims are in pain, their sleep, sex life, mood, and ability to function on a day-day basis suffer, and this should be considered when it comes to pursuing compensation.
Loss of Enjoyment of Life
If, as a result of the accident, you can no longer do things that you love to do, this is what is known as a loss of enjoyment of life. This can include a wide variety of things, from being unable to carry your son on your shoulders to being unable to play sports on the weekend or go fishing. If you have had to make changes to your life and hobbies, you deserve to pursue compensation for your loss.
The Four Elements To Prove that Qualifies a Person To Make a Personal Injury Claim in Richmond, Texas
For personal injury claims to be valid, your attorney will need to consider and prove four important elements. If your case gets escalated and you end up fighting in the courtroom, they will be expected to show proof for these four elements in order for the court to award the damages and compensation.
Here are the four elements they will need to prove:
The person at-fault must have owed you a duty of care at the time they caused the accident.

The person at fault must have breached the duty of care by acting in a way that is negligent.

This negligent behavior must have caused your accident.

This accident must have directly caused you the injuries you are claiming for and the damages you are seeking to recover.
If the terminology confuses you, or you are unsure whether or not you can prove these four elements, do not worry. Your personal injury attorney will be able to evaluate your case for you.
Definition of Negligent Behavior
One important thing that we recommend all personal injury victims do, is to gain an understanding of what negligence is. Negligent behavior is the core of any personal injury case.
If the other party owed you a duty of care, such as the duty of care that road users owe to other road users or doctors owe to their patients, and they act in a way that isn't "reasonable", this is negligence. If a "reasonable" individual placed into the same situation would have acted differently, the behavior is negligent.
An easy example of negligent behavior would be a drunk driver running a stop sign and hitting a pedestrian.
Let's break this down:
The driver owed the pedestrian a duty of care at the time of the accident, as all road users assume a duty of care to the other users of the road.

They breached this duty of care by acting negligently. A reasonable driver would not be driving while drunk and would not have run a stop sign. This means the drunk driver has acted negligently.

The drunk driver caused the accident directly by running the stop sign, probably because they were drunk at the time.

The pedestrian suffered direct injuries as a result of being hit by the car.
Breaking this down, it is clear that this person has a valid reason for a personal injury claim. They can easily prove all four elements, and in this scenario, the case is pretty clear-cut.
Not all cases will look this simple, so we highly recommend seeking the help of a Richmond personal injury lawyer. They can quickly evaluate your case and will be able to run through each of the four elements with you.
Common Personal Injury Case Types
Our Richmond personal injury lawyers have dealt with all manner of accidents over the years, and this means we have seen most injury types. This gives us an advantage as we will usually have successful past cases similar to yours to draw knowledge from.
Some of the most common cases include:
Slip and Fall or Trip and Fall Injuries
These types of injuries are extremely common, from falls from great heights on building sites to slips on wet floors in a grocery store. If the accident was preventable, you most likely have a claim. If the hazard was known about, and steps were not taken to signpost or warn people of the hazard, this is negligence.
Private property owners owe a duty of care to anyone who might be on their property.
Car Accident Injuries
Car accidents are the most common cause of personal injury cases in Texas and, indeed, across the entire United States. Due to their nature, they have a high potential to cause serious injury and fatality.
When alcohol or intoxicating drugs are added to the mix, this risk goes up dramatically. In Texas alone, there is a drunk driving accident every 20 minutes, a terrifying 72 times a day.
Car accidents are the most common cause of personal injury in the entire country, and this means that we deal with car accident cases on an almost daily basis, including DUI accidents.
When drunk drivers get behind the wheel of their car, they are at risk of causing catastrophic injuries, such as a Traumatic Brain Injury or the wrongful death of a loved family member.
Commercial Truck Driving Accidents
Commercial trucks, when fully loaded with cargo, can easily weigh upwards of 10/15/20x that of a normal passenger car. This means that when they crash, the results are usually much more serious.
Commercial truck companies should monitor their trucks for this very reason. There are regulations that are in place that state the truck drivers should take adequate breaks, should not be allowed to work longer hours than is safe, and they should all be well trained.
Trucking companies should take every possible measure to ensure that the truck is maintained to a high standard. If an accident happens and it is down to a lack of maintenance or the mechanics responsible for maintaining the truck, the liability may lay with them.
Commercial trucking accident cases are extremely complex. Due to the larger payouts that are often seen in these cases, commercial truck companies and their insurance providers employ the strongest legal teams possible. This means you must seek compensation with a personal injury lawyer if you want the best chances of success.
Medical Malpractice Injuries
Medical care is expensive in the United States, and for the money we have to pay, we expect a certain level of competence from our medical providers. When these professionals deviate from the standard medical practices that they have been taught to follow and adhere to, or they act without due care and attention, this is medical malpractice.
Medical malpractice is extremely serious, and cases involving malpractice are perhaps the most difficult cases to navigate. Not only will your personal injury lawyer need to be well versed in personal injury law, but they will also need a certain level of medical knowledge and understanding of the additional regulations around claiming against a medical professional.
Common forms of medical malpractice include:
Failed and Delayed Diagnosis – When a doctor fails to diagnose a condition in a timely manner or fails to diagnose a condition entirely, treatment may not be administered quickly enough.
Misdiagnosis – Just as serious as when a doctor fails or delays to diagnose is a misdiagnosis. In these cases, the patient may be given the wrong treatment, further aggravating their injuries.
Surgical Error – In the operating theater, tiny mistakes can be fatal. This means our surgeons need to be impeccably trained. If a surgeon acts without due care and attention. A number of things can happen. We have seen cases of surgeons leaving objects in a patient, in patients receiving the wrong surgery, or in the wrong part of the body. This is gross negligence.
Which Richmond, TX, Personal Injury Lawyer Should I Use?
Your personal injury claim should always begin with you deciding which lawyer you want to represent you. This can be a difficult task for those that have never needed a lawyer. You might be persuaded to go with a law firm that you have seen on a flashy tv ad or on a billboard.
We recommend that you dig deeper than this and look at:
Personable

– Remember, your personal injury case may run for several years before you receive a settlement or you are awarded your damages in court. This means you need to ensure that you get along with your attorney, as you could be spending a lot of time in their company. Use the free initial consultation to gauge if your personalities gel or clash.

Past Victories in Similar Cases

– Your attorney should be able to show you their past victories in cases just like yours.

Time Management

– If your attorney is good, they will have a full caseload of clients. This means they will need strong time management skills to make sure that every client receives the time and attention they need. This means that while you may not have full access to them around the clock, you should feel they respond promptly and take the time to keep you educated and informed.
What to Do at The Scene of the Accident
If you find yourself on the scene of an accident, there are certain things you can do to ensure your safety and your chances of successfully making a claim later on down the line. It is worth keeping these in mind and familiarizing yourself with the following steps:
Prioritize your safety
Your safety is always the top priority. This means you check yourself for injuries first, then check others. If you have hit your head, have pain in your neck, shoulders, or back, or know you have fallen a great height, do not let anyone move you until the ambulance turns up.
If your injuries allow it, you should move away from further danger if you are in any.
Call an ambulance if there are injuries
In any accident involving injuries, you should always call an ambulance. Most people are not trained enough to be fully confident that injuries are not serious. Internal bleeding, concussion, TBIs, etc., can all lie hidden with no outward symptoms and can be masked by adrenaline. These conditions can still prove fatal if left unchecked.
Call the police/fire department
If the accident happened on the roads and involved cars or drunken drivers, you must call for the police to attend the scene. They will deal with the traffic and will administer a blood alcohol test to the party responsible. This test will be important evidence.
The fire department should be called in the event that the accident involved fire, gas, electricity, or explosion.
Collect evidence
Once you have called the relevant emergency services, now is the best time to collect evidence if your injuries allow you to do so.
A great way to do this is to take a video with yourself speaking over the top. Give a brief voice statement explaining what happened, and record a video of the scene. Other good ways to collect evidence are photographs and sketches of what happened if it was a road accident.
If there were any eyewitnesses who are on the scene, now is your chance to speak to them. Ask them if they mind you recording a voice statement on your phone. This is a great way to ensure they do not become unreliable. If they won't agree to that, simply ask them to give a small statement, and you can write it down. Take their name, number, email, and address if they are willing to give you it.
Call a team of Richmond, TX personal injury attorneys
At any point after the accident, you should get in touch with your chosen attorney to tell them what happened. The sooner you involve them, the better your chances of success. They will guide you through what to do and what to say, and they will begin investigating on your behalf.
Common Injuries that are Sustained in Serious Accidents in Texas
Common injuries that we see here at the Houston Personal Injury Lawyers, PLLC, are:
Burn wounds

– Burn wounds are extremely painful and can cause nerve damage and infection. This pain can cause mental and emotional trauma, especially if the wounds are serious enough as victims may be disfigured for life.

Severe cuts and lacerations –

Serious cuts or lacerations need to be dealt with quickly and can lead to large scars and blood loss.

Broken bones

– Broken bones have a slow healing process, and this means taking a lot of time off work for most people. If complications arise, it may be necessary to receive physical therapy for life.

Spinal cord injury

– Spinal damage may lead to paralysis or chronic pain.

Traumatic brain injury

— A traumatic brain injury may lead to life-long paralysis or disabilities.
The Timeline of the Texas Personal Injury Claim Process in Richmond
Your Richmond personal injury lawyer will guide you through the process of making a claim. Most cases follow a similar framework:
Investigating and building a case.

Calculating damages.

Negotiating settlement agreements.

Litigating in court if necessary.
Richmond Personal Injury FAQ
Call Houston Injury Lawyers, PLLC
Here at Houston Injury Lawyers, PLLC, our ethos is to provide reliable representation to those that need us most. We take the time to build an attorney-client relationship based on trust and competence. We keep you informed, listen compassionately, and educate you where necessary, so you know what is going on at each step of the case.
We have a long history of victory, and our reputation for fierce advocacy precedes us. We don't settle for less, and we don't rest until we believe we have done everything possible for our clients.
Contact us today for a free consultation and case evaluation at 936-251-5246