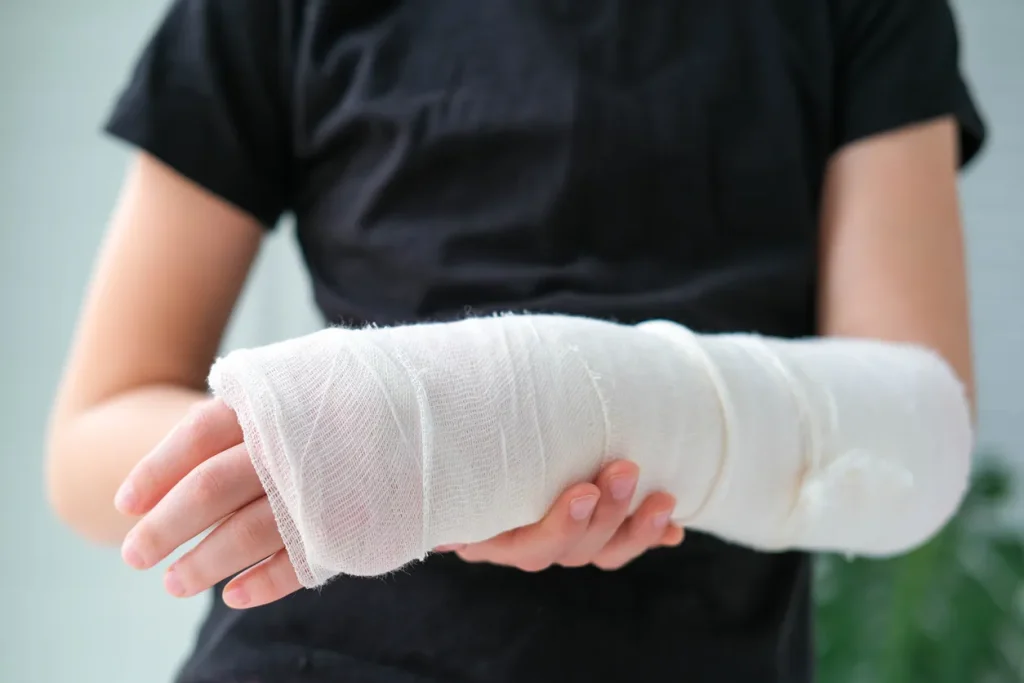 Victims of accidents that were not their fault should not be left to deal with rising medical bills for their injuries and the emotional trauma caused alone. When you have been injured through the careless and negligent behavior of another person, you deserve to recover all damages suffered and to seek compensation for your pain, suffering, and mental distress.
The laws, rules, and regulations surrounding personal injury cases in the state of Texas are complex and difficult to navigate. On top of that, you will be seeking compensation from the other party's insurance company and they will most likely employ an aggressive legal team. This is why we recommend retaining a personal injury attorney.
Houston Injury Lawyers, PLLC – Fierce Advocacy
We know how difficult pursuing compensation can be, especially when you are dealing with injuries and emotional trauma. When you get in touch with a Missouri City personal injury lawyer from the Houston Injury Lawyers, we will keep the case moving, investigate for you, and build a strong case on your behalf.
We believe that all victims deserve the right to skilled and reputable representation, regardless of their financial situation. To ensure that everyone can pursue the compensation they deserve, we offer a free consultation and case evaluation to new clients. We also work on a contingency-fee-basis, which is non-recourse, meaning you only pay for our services if you win your case.
As soon as we have evaluated your case and explained how our fee structure works, if you are comfortable and agree, we can begin work immediately.
We will investigate the accident, calculate your damages, form settlement offers, and liaise with the insurance companies. We do the hard work, so you don't have to.
Our Missouri City personal injury lawyers cover the entirety of Texas so call us today at 936-251-5246.
The Process of Hiring an Experienced Personal Injury Lawyer in Missouri City, TX
The first step in raising a personal injury claim is to decide what law firm you want to represent you. This can be a difficult decision, especially for those that have never needed a lawyer before.
When looking for a personal injury lawyer to represent you, you should look at their past history in similar cases. All good law firms will be happy to provide you with glowing referrals from past clients. Don't just take their word on it either, there are plenty of independent review sites that you can check as well.
The best attorneys will have strong levels of communication and time management. This means they will keep you in the loop throughout the entire process and will make ample time for you in their busy schedules.
Here at the Houston Injury Lawyers, PLLC, every one of our personal injury attorneys, has these qualities and as a law firm, we have a reputation for aggressive representation.
One example would be Ali Shah, who has an "Excellent" rating on AVVO, an independent review site for attorneys. On top of that his professional associations and awards include:
Collaborative Personal Injury Lawyers

Academy of Mediators

National Academy of Personal Injury Attorneys

National Association of Personal Injury Lawyers

Association of Personal Injury Lawyers
Accolades & Awards:
Texas Southern University Law Journal Editor

Texas Southern University Law Dean's Elite Scholarship
The Personal Injury Process in Missouri City, TX
If you have been injured in an accident, the first thing you should do is seek medical attention. Once you have been seen by a doctor and have a better understanding of your injuries, you can start to think about taking legal action.
The first step in taking legal action is to contact a personal injury lawyer. Once you have agreed to representation from one of our excellent attorneys, the process will follow these stages:
Evidence Collection and Investigation
The first step in any personal injury case is the collection of evidence and the investigation of the events that took place. Your attorney will utilize all their resources to do this, which may include seeking help from expert witnesses, digging for CCTV footage, and tracking down eye-witnesses to confirm what happened.
They will also use all of the evidence you have collected yourself, examining your photos, videos, and any medical records of your injuries.
By using the evidence you have given and the evidence they have uncovered through their investigation, your attorney will begin building your case.
Calculating the Damages and Sending Settlement Offers
Once they have a firm grasp of the events that led to the accident, and who was liable, next, they will begin calculating the damages they wish to recover for you. This will help them form the settlement offer they send to the at-fault parties' insurance company.
To do this they will look at both forms of damages, your economic damages, and your non-economic damages.
Economic Damages
Your economic damages are your monetary losses. These damages have a tangible price tag that can be supported by the necessary documents. Examples of economic damages are your medical bills, which will have invoices and receipts, and your property damage, such as a repair bill for your car following an accident.
These damages can be summed up easily and as long as you maintain copies of all of your bills, they are hard to dispute.
Non-Economic Damages
Next, your attorney will need to consider what they believe your non-economic damages to be worth. These damages are more difficult as they do not have an easy-to-quantify price attached.
Examples of your non-economic damages are pain and suffering and loss of enjoyment of life. Your pain and suffering can encompass a wide variety of things. If you went through a lot of emotional distress or have developed a phobia of driving, you should be compensated for the impact this has had on your life. If you can no longer carry your son on your shoulders, your enjoyment of life may be affected.
Due to their complex nature, non-economic damages are best calculated by an attorney who has a lot of previous experience doing so.
Your attorney will use your economic damages and the non-economic damages they have calculated to create a settlement figure that they send to the other party.
When calculated by an experienced attorney, these damages will be fair and reasonable and this will increase the chances that your settlement agreement is accepted.
If your settlement is declined, the more reasonably the damages have been calculated, the harder they will be to dispute in court when your attorney fights to convince the judge you deserve what you are seeking.
Filing a Lawsuit
If the other party has declined your settlement offer, you will have to move to the courtroom.
At this stage, your attorney will use the case they have built from the evidence and investigation of the accident to fight for your compensation and damages in court.
Every attorney here at the Houston Injury Lawyers, PLLC, is a skilled litigator, with vast experience and numerous victories fighting in court.
What to Do at The Scene of the Accident
After you have been in an accident, there are some important things you need to do in order to protect your interests.  Before anything, you should make sure that you're not in immediate danger and that you do not need to seek medical attention. If it is safe to do so, follow these steps to ensure your safety and to protect your chances of seeking compensation later on down the line:
Prioritize Your Own Wellbeing
Firstly, the most important thing to do following an accident is to prioritize your safety above all else. That means checking yourself for injury before anyone else and moving to a place of safety. If you know you have hit your head or you feel pain in your back, you need to remain still and prevent anyone from moving you until an ambulance turns up.
Call an Ambulance if There are Injuries
If there are any injuries whatsoever, you need to call for an ambulance. It is better to be safe than sorry following an accident. Shock and adrenaline can mask symptoms of serious injuries. The ambulance team will be able to ensure everyone is treated correctly.
Call the Police/Fire Department
If the accident involved drunk drivers, traffic incidents, or aggressive parties, we recommend you call the police. They will ensure that everyone is safe and in traffic incidents will be able to divert oncoming traffic.
If the incident involved fire, explosion, electricity, or gas, you need to call the fire department so they can deal with the danger.
Collect Evidence
Once you and everyone are safe and the relevant emergency services have been called, if your injuries allow it, now is the time to collect evidence. Take photos of the accident scene, record a quick statement of what happened by voice note, and ask any witnesses to do the same. It's important to do this as soon as possible after the accident while everything is still fresh in everyone's minds.
Call a Missouri City Personal Injury Lawyer
The sooner you get in touch with your attorney, the better. They will be able to begin investigating immediately and will be able to advise you on what to do and what to say so that you protect your interests. They will also be able to help you navigate the complex process of filing a personal injury claim.
What Damages Can a Missouri City Personal Injury Lawyer Help Me Claim?
There are many different types of damages that you may be able to claim if you have been injured in an accident.  In order to best assist your attorney in calculating the damages you wish to recover and the compensation you wish to seek, it can help to know the different damages you can claim:
Medical Bills
Medical bills quickly add up and can quickly exceed even a premium insurance policy. If your injuries have required you to receive medical treatment, keep all bills and receipts. It is also a smart idea to keep a medical diary with daily recordings of your pain levels and mood, as well as any treatment you have received that day.
You can claim for all treatment costs, medication costs, transport costs to and from the hospital, and any childcare you have had to secure for your children whilst you are treated.
Lost Wages
Most personal injury cases involve the victim taking time off work. This usually means a loss of wages and earnings during that time. In Missouri City, you can claim for all past and future loss of earnings. This means that if you cannot return to the same job due to lifelong injuries, you can claim a lifetime of lost wages.
Different Types of Injury That Can Qualify for a Personal Injury Lawsuit in Texas?
As a personal injury law firm, we have seen a wide variety of injuries. The following is a list of the most common:
Burns and cuts.

Dog bites.

Slips trips and falls.

Broken bones.

TBIs (traumatic brain injuries).

Back and spine injuries.

Electrocution.

Whiplash.
How is Negligence Defined and Why is It Important?
One of the most important aspects of any personal injury case is assigning liability. To do this, you must prove that the other party acted in a negligent manner.
Negligent behavior is any behavior seen as different from reasonable. Reasonable behavior is how another "reasonable" person would act in the same situation.
If you failed to signpost a wet floor in your shop after mopping, and a customer slips on the wet floor, you have acted negligently as a "reasonable" shop owner would have signposted the wet floor.
The Four Important Elements of Negligence in a Personal Injury Lawsuits
There are four important elements that you will need to prove in a personal injury case.
The elements are:
    Duty of Care.

    Breach of Duty.

    Causation.

    Actual Damages.
Duty of Care
For the other party to be liable, they must have owed you a duty of care at the time of the accident. There are a number of reasons why a person owes a duty of care. One example is the duty of care road users owe to other users of the road or the duty of care a medical provider owes their patients.
Breach of Duty
The next element to prove is that the at-fault party owed you a duty of care and breached it by acting in a negligent manner. If they acted in a way seen as different from how a reasonable person would have acted, they have acted negligently and breached their duty of care.
Causation
The third element is causation, and this means you will need to prove that by breaching their duty of care to you with their negligent behavior, they directly caused your injury. For example, if you can show that the other driver ran a red light and collided with your car, then you have satisfied this element.
Damages
Lastly, you will need to prove that the injuries they caused you have led to you suffering economic and/or non-economic damages as a result. Economic damages include medical bills, lost wages, and property damage. Non-economic damages may include pain and suffering, mental anguish, and loss of enjoyment of life.
Do I Really Need a Personal Injury Lawyer?
Texas law allows any individual to seek compensation by themselves but in almost all cases, it is not a smart decision.
You will be responsible for pushing your case throughout the entire process alone if you do not seek representation. This could mean dealing with all the stress and fighting for what could be several years. You will also be up against a legally trained, aggressive team of loss adjusters. They deal with cases like this every day and will have a huge advantage over you.
If you do win your case alone, your settlement will usually be a lot lower than what you can seek with an attorney. In the majority of cases, the settlement awarded is usually large enough that you will still walk away with more compensation, even after your Missouri City injury attorneys have taken their fees.
Common Personal Injury Accidents
Medical Malpractice Cases
Medical malpractice cases occur when a medical provider acts without due care and attention or deviates from the standard medical practices they have been taught to adhere to. In these cases, you can recover both past and future medical expenses. Common examples of medical malpractice are surgical errors and misdiagnoses.
Dram Shop Cases
Texas places a responsibility on venues that serve alcohol to patrons via dram shop liability laws. This means they should refuse service to obviously intoxicated individuals or they may be found liable for the damages the drunken patron is responsible for.
Car Accidents
Car accidents happen every day and have the potential to cause serious injury or wrongful death of the victim. When you get behind the wheel of your car, you automatically assume a duty of care to other road users and when this is breached, you become liable for their damages.
Motorcycle Accidents
Motorcycle riders are much more vulnerable compared to those in a car. This means they have an increased risk of serious injury or fatality. They are harder to spot and have far fewer protective measures.
Commercial Truck Accidents
Commercial trucks have the potential to cause serious damage. This is due to the fact that fully loaded, they can weigh upwards of 20x that of a regular car.
For this reason, the truck should be monitored and maintained to a high standard by the trucking company and the driver should be monitored to make sure they take adequate rests and breaks.
Time Constraints after an Accident
There are two time constraints on a personal injury case.
The first is the legal time limit, laid out in the statute of limitations. This states that you have two years from the incident to raise a personal injury claim. If you wait longer than this, your case will be thrown out and you will no longer be able to claim.
Secondly, the sooner you get in touch with your attorney, the more likely it is that you can seek and obtain the full and maximum compensation on offer to you. The longer you leave it, the more difficult it will become to investigate and build the strongest possible case.
Missouri City Personal Injury FAQs
The time it takes for any personal injury case to settle will depend upon its complexity, such as the level of liability, parties involved, and severity of the injuries.
You have the right to seek medical attention from your own list of medical providers, there is no law or regulation to state that you must use a specific provider apart from if you were injured at work and they have a workplace-approved medical provider.
Insurance companies are usually looking to reduce their liability and you should be cautious when speaking to them. Never admit fault or apologize and if possible, inform them that you wish for them to speak to your attorney going forwards.
Contact a Missouri City Personal Injury Lawyer at the Houston Injury Lawyers, PLLC
Here at the Houston Injury Lawyers, PLLC, each personal injury attorney on our team is a trial-tested litigator, with numerous victories under their belts.
We take the time to educate our clients, keeping them involved throughout the case and building a client-attorney relationship that is beneficial to both sides.
We don't back down from a tough challenge, and we never give up on our clients.
Call us today at 936-251-5246.