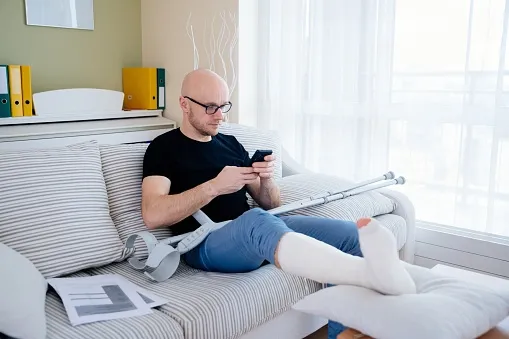 When you have been injured in an accident caused by somebody else, it's difficult to think straight. Your injuries might require medical treatment, and that means medical bills. If your medical coverage is not strong enough, this means you may be left facing a tough decision.
On top of this, you might be dealing with physical pain, as well as the emotional trauma of the accident.
You should not be responsible for finding your medical bills and, thankfully, you are entitled to seek compensation for any damages incurred, including any pain and suffering you are going through.
Houston Injury Lawyers, PLLC Covering Sugar Land TX
Here at the Houston Injury Lawyers, PLLC, every experienced personal injury lawyer on our team is ready to help. If you have questions or want to begin the process, we offer a free consultation and free case evaluation.
In this meeting, we will answer your queries, evaluate your case and give you honest legal advice. If we think your case is worth pursuing, we will explain our fees and if you feel comfortable and agree to legal representation, we can step in immediately. We prioritize the attorney-client relationship and we want you to feel as confident in our abilities and as comfortable as possible during the process.
When you need an experienced personal injury attorney, you might be worried about the up-front cost. Here at the Houston Injury Lawyers, PLLC, we work on a contingency-fee-basis for that reason. We don't want you to avoid seeking the compensation you deserve because you are worried about finding legal fees upfront.
If you win your case, we take our fees from your settlement. If you do not win, you don't pay a penny.
Call us today at 936-251-5246.
Does My Situation Qualify For a Personal Injury Claim in Sugar Land Texas?
Together with your personal injury attorneys, you will need to prove certain elements in order for your case to be valid.
First, you will need to prove that the person you are claiming is responsible, owed you a duty of care at the time of the accident. An example of a duty of care is the duty of care that you owe to all road users when driving.

Next, you will need to prove that they breached this duty of care by acting in a way that was negligent.

Third, you will need to prove that this negligent behavior caused your injury.

Finally, you will need to prove that this injury caused you economic and/or non-economic damages as a result.
If you are unsure of the above elements, don't worry, your Sugar Land personal injury lawyer will be able to walk you through them.
How is Negligence Defined in Sugar Land, TX?
If you are confused about what construes negligent behavior, negligent behavior is any behavior that is different from how a normal, reasonable person would act if placed in a similar situation.
An example of negligent behavior would be a shop owner who is having a renovation. If the area that is being renovated contains exposed wiring and the store owner fails to warn customers of the site, they have acted negligently as a reasonable shop owner would have warned their customers of the danger.
What Damages Can I Claim in a Sugar Land Personal Injury Claim
One responsibility that your Sugar Land personal injury lawyers will take on is the task of calculating what the damages you can recover are worth. The more skilled your personal injury attorney and the more victories they have under their belt in similar cases, the better they will be at this task.
Economic Damages
To begin with, your attorney will add up all of your economic damages. Economic damages are monetary losses and have a physical figure attached. Medical bills are an example of economic damages as you have had to pay a set figure. Another example would be the repair or replacement of your vehicle following a car accident.
Non-Economic Damages
After they have calculated your economic damages, the next step will be to work out your non-economic damages. These damages are the damages that do not have a physical cost attached. Common examples of non-economic damages are things like pain and suffering or emotional trauma.
The damages your attorney will look at include:
Lost Income
If you have been injured in an accident, it is highly likely that you are going to need to take time off work. Time off work may cause lost wages and you should not have to suffer from this.
Your Sugar Land personal injury lawyer will calculate how much money you have lost as a result of missed work.
If your injuries mean that you can never return to work in the same capacity, they may calculate what your future loss of earnings are as well.
In a Sugar Land personal injury case, you can claim for all lost wages, future, present and past.
Medical Bills
For the most serious injuries, medical bills can be extremely high. Often, this can exceed even the highest level of medical coverage. This can leave victims facing medical bills that they have to pay for out of their own pocket or worse, cannot afford to pay.
Thankfully, your attorney will seek full recompense for your medical bills. This includes all past treatment, all future treatment, and all transport to and from the hospital.
It is massively important that you keep hold of all the receipts and bills relating to your claim. In order to calculate your medical damages accurately, your attorney will need them and without them, the figure may be challenged.
We also highly recommend that you keep a medical diary. You should mark down in this diary how you feel and how much pain you are in daily. You should also keep a note of each treatment you receive and the date you receive it. This will make it a lot easier for your attorney when they are building your medical timeline of treatment.
Pain and Suffering
Things that classify as pain and suffering include mental and emotional trauma, as well as loss of enjoyment of life.
If you used to bowl on the weekend but because of your accident, your back pain is too much for you to bowl, this can be seen as a loss of enjoyment of life as you cannot engage in your favorite activities.
Emotional trauma can take many forms, such as the development of a phobia of swimming in a swimming pool after a near-drowning accident.
Property Damage
If the accident resulted in damage to your property, such as your car being written off in a car accident, you can recover the money that you had to spend replacing or repairing the vehicle.
Types of Personal Injury Lawsuits Our Attorneys Regularly Handle
As personal injury lawyers, each case we deal with comes with its own specific circumstances. This means every case is unique. However, certain injuries are more common than others.
This means that we have dealt with these common injuries in many cases, which makes it easier for us, as we know how to approach them in the best possible way.
These are the most common personal injury types that we see in Sugar Land.
Slip and Fall or Trip and Fall Injuries
Injuries caused by a slip, a trip or a fall accident are common injuries that lead to a claim. If somebody has failed to ensure that their premises or property is safe and you have injured yourself because of a lack of signposting or warning, you may be eligible to make a claim against that party.
Car Accident Injuries
Personal injury claims involving car accidents are the most common personal injury case in the United States. People behind the wheel rarely realize the potential they have to cause serious injury or the wrongful death of a victim, and when they engage in distracted driving or dangerous driving, the chances of fatality or serious injury are high.
Premises Liability Injuries
Premise liability is an umbrella for a large variety of different accident types. Things like swimming pool accidents and electrocution both fall under premise liability.
Medical Malpractice Injuries
Medical care can be extremely expensive in Sugar Land. With the high price of medical care, we should be able to seek medical treatment from healthcare professionals with confidence.
When our healthcare professionals act without due care or in a way that deviates from the standard medical practices that they have been taught to follow, it may constitute a medical malpractice case.
Medical malpractice cases have the potential to cause lifelong injuries or the wrongful death of a patient. Patients may be misdiagnosed and given the wrong treatment, or fail to be diagnosed entirely, this can lead to the patient being sent home without treatment.
Surgical errors include surgeons performing the wrong procedure, performing the procedure on the wrong body part, or leaving medical instruments inside the body.
Medical malpractice cases are complex and you will need a team of experienced personal injury lawyers that have experience in the field in order to seek justice and compensation.
Birth Injury
During pregnancy, both the mother and the child are particularly vulnerable, meaning they are more susceptible to injury. Errors during this time can lead to long-term problems for both the child and the mother.
If a doctor fails to screen for the right conditions or causes physical damage during an examination or during the birth, then you may have grounds for a claim.
Wrongful Death Claims
The most tragic form of personal injury case is a wrongful death claim. When somebody you love has been taken from you, you deserve to seek justice. Whilst no amount of compensation will ease the pain, it can help with funeral costs and provide financial aid to the family of the loved one.
How Do You Decide Which Sugar Land Personal Injury Lawyer to Use?
Deciding which Sugar Land personal injury attorney you want to represent you can be a tough decision to make, especially if you have never had the need for a law firm or an attorney before.
Avoid making your decisions based upon advertisements like TV ads or billboards. Instead, ask your potential representation for their previous victories in cases like yours and check to see if they have excellent reviews and referrals.
A capable personal injury attorney will most likely offer a free consultation. In this meeting, they will evaluate your case, advise you on your best plan of action and answer your questions. You can use this meeting to ensure that your personalities do not clash and to gauge whether you feel confident in their abilities.
Remember, all talented attorneys will have a busy and full caseload, and this will require incredible time management skills. This means you will not have full access to them around the clock.
You should, however, feel that they make adequate time for you and respond to you in a prompt manner.
What to Do at The Scene of the Accident
To maximize your chances of a successful claim and to ensure your own safety, here are the steps you should follow at the scene of an accident.
Prioritize your safety
You should always prioritize your safety above all else. If you know you have hit your head or if your back, neck, or shoulders hurt, try to remain still until a paramedic turns up. If someone tries to move you, inform them that you may have injured your spine or head and that they should not move you until the ambulance turns up.
Call an ambulance if there are injuries
If you or other victims are showing any injury, you need to call an ambulance. They will be able to treat any injuries and will be able to check everyone else for hidden injuries, like head trauma or internal bleeding. They will also file an unbiased report that your attorney can access later on.
Call the police/fire department
If the accident still poses a threat to you, or to others, such as a fire or live electricity, call the fire department.
If the accident was caused by a drunk driver or an aggressive party, call the police. They may administer a blood alcohol test and they will ensure that you are safe.
Collect evidence
Once you are confident you have done everything you can and the emergency services have been called. If you are able, start collecting evidence.
The best way to do this is to take videos or photos of the scene, write down in your own words what happened and collect all witness details if there are any.
Call a Sugar Land personal injury lawyer
The sooner after the accident that you call your Sugar Land personal injury lawyer, the better. Personal injury cases are always time restrictive. The sooner you call, the more likely it will be that they can find the relevant evidence they need.
Call The Houston Injury Lawyers, PLLC
Here at The Houston Injury Lawyers, PLLC, our Sugar Land personal injury team has a long history of victory.
We don't back down from a fight and we never settle for less. We will pursue your case aggressively and will not rest until we have exhausted every chance of seeking a favorable outcome on your behalf.
Contact us today for a free consultation and case evaluation at 936-251-5246.