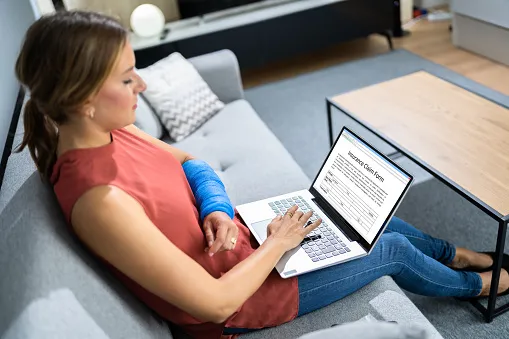 If you or someone in your family has been injured in an accident due to someone else's negligence, then you could be owed compensation. Victims should not be left with mounting medical bills and lost wages; they deserve compensation for both their financial losses and emotional suffering.
In order to pursue just and fair compensation, the best thing you can do is enlist the help of an esteemed personal injury law firm. They will investigate your case, gather evidence to support your claims, liaise with insurance companies, file paperwork and ensure that all legal processes are properly followed. They are prepared to go to court if necessary and will not settle for less than what you deserve.
Houston Injury Lawyers PLLC – Personal Injury Attorneys You Can Trust
The sooner you agree to representation from an attorney, the sooner you can focus on what's important – your health and recovery.
When you agree to representation from one of our Rosenberg personal injury lawyers, they will get to work quickly to ensure that you have the best chance at fair and just compensation.
Our ethos is that everyone, no matter their financial situation, should have access to high-quality legal services. That is why we offer all victims of personal injuries a free consultation and representation on a contingency fee basis. That means we only get paid if your claim is successful and as a percentage of your settlement. If, for whatever reason, your case is not successful, we will not be paid anything.
Speak to an experienced personal injury lawyer today and arrange a free case review at 936-251-5246
What to Do After Suffering a Personal Injury
After an accident such as a car accident, slip, and fall, or workplace incident, there are certain steps you can take to increase your chances of securing compensation.
Prioritize Safety
First and foremost, you need to prioritize your own safety. If you have any signs of serious injuries, such as pain in your neck or back, then you should stay still and wait for paramedics to arrive. Do not let anyone move you if you think you could have a serious injury. If you have spinal injuries or a head injury, then moving could make your condition worse.
If your injuries allow it, then you can check on any other potential victims for injuries and, if necessary, call emergency services. You should also move away from any potential danger, such as oncoming traffic, if you were in a car accident.
Call an Ambulance / Seek Medical Attention
If anyone requires medical attention, then you should call for an ambulance. The paramedics will make sure that everyone is properly evaluated for injuries and can deal with anyone who is seriously injured.
If your injuries were not severe enough to be treated at the scene, then you should seek a medical evaluation as soon as possible. Adrenaline could be masking serious injuries, and you do not want to make your condition worse. Your medical report will also be an invaluable piece of evidence in your claim, without which you stand little chance of success.
The sooner after an accident you seek medical attention, the better, as it will be easier to prove that your injuries were a direct result of the accident.
Call the Police/ Fire Department
Depending on the situation, you may also need to inform the police or the fire department.
Any car accident that causes serious property damage or a personal injury should be attended to by the police, who will file a police report.
If the accident involved fire, gas, electricity, explosions, or structural damage, then you should call the fire department. They will be able to isolate the problem and prevent further harm.
Collect Evidence
Once you have done everything you can for your own safety and everybody else's then you can start collecting evidence from the scene.
Collective evidence involves taking pictures of the scene, your injuries, and any property damage. If there were any eye-witnesses, then you should also get their information so that your attorney can get a statement from them later on.
If you were in a car accident, you would also need to exchange information with the other driver, including car information and name and contact details.
We also recommend writing a brief statement about what happened quickly after the accident. It is common for memories to become confused, especially after a traumatic event. Therefore, if you have written something down soon after the accident, your attorney will be able to refer back to this.
Call a Rosenberg Personal Injury Lawyer
As soon as you are able to, you should contact a personal injury law firm for a free consultation. That way, you can receive some initial advice for free and gain some clarity about your next steps.
The attorney you speak to should also be able to assess whether they believe you have a valid claim. If they think you do, and you agree to representation, then they can get to work quickly to preserve evidence. This can make a huge difference in the outcome of your case.
Your attorney will also take over all the paperwork and communicate with insurance companies so that you can focus on your health.
How Long You Have to Make a Personal Injury Claim
In Texas, you have just two years from the date a personal injury occurred to make a claim. Generally, after this date, you will lose your right to pursue compensation; this is known as the statute of limitations.
We recommend that victims of personal injury act quickly to contact an attorney. Your attorney can advise you quickly so that you do everything possible to protect your claim. They will also preserve vital evidence that could otherwise be lost. Acting in a timely manner could be the difference between you receiving a fair settlement and being unsuccessful in your claim. That being said, even if some time has passed, it is still with contacting an attorney who can review your case in a free consultation.
Hiring an Experienced Personal Injury Lawyer
If you have never needed legal services before, finding the right attorney can feel like an impossible task. It is important to do your research and to be confident that you have a reputable law firm representing you.
The key thing to look for is whether they have a history of success in similar cases to yours. Many personal injury law firms in Texas will offer a free consultation, which is a great opportunity for you to ask questions, decide if you feel comfortable talking with your attorney, and for them to decide if they are a good fit for your case.
At Houston Injury Lawyers, PLLC, our team of personal injury attorneys has many years of experience and an individualized approach to the attorney-client relationship. We will take the time to keep you informed and will fight tirelessly to secure you the compensation you deserve.
When you are making your choice as to the right law firm for your case, then you may want to consider asking questions such as:
Have you won cases similar to mine?

What does your fee structure look like?

How much trial experience do you have?

How much of your time is dedicated to personal injury victims in Texas?

How will I contact you if I have questions, and how soon can I expect a response?

What does a good settlement look like in my case, and how do we achieve that?
What Types of Accidents Qualify For a Personal Injury Lawsuit in Texas?
Our team has represented victims who have suffered a broad range of accidents. If your injury was caused by someone else's negligence, then you could have grounds for a personal injury claim. Some common examples include:
Accidents involving E-scooters.

Dogs bites.

Truck accidents.

Pool accidents.

Plant and refinery accidents.

Medical malpractice.

Injuries resulting from dangerous and defective products.

Workplace injuries.

Catastrophic injuries. 
How Do I Prove Negligence in Rosenberg, TX?
Once you agree to representation from an attorney, they will begin to investigate your case, which involves determining liability. The liable individual is the person who acted negligently and, therefore, caused your injuries.
In order to have a successful Rosenberg personal injury claim, there are four elements of negligence that need to be proven.
The Liable Party Owed You a Duty of Care
The liable party must have owed you a duty of care in order to prove negligence. There are several reasons why a person could owe you a duty of care. For example, medical providers to their patients, road users to all other road users, and businesses to their customers.
They Breached Their Duty
Next, the negligent person must have breached their duty of care to you. This means that they behaved differently from how a reasonable person would act in similar circumstances. For example, if a server cleans a spill, then a reasonable person would put a sign up to warn people that there is a wet floor. If they fail to warn customers of the known danger, and someone suffers a slip and fall, then they have behaved negligently.
The Breach Caused your Injury
To have a successful personal injury case, the negligent behavior must have directly caused your injury. In the case of the slip and fall, if you broke your hip as a direct cause, then you should have a valid case.
Your Injury Left You With Damages.
Your injury must have been severe enough to cause damages. Damages are your losses such as medical expenses, lost wages, and pain and suffering. Any damages that were a direct result of the injury suffered in an accident caused by someone else's negligence, then you should have grounds for a successful claim.
What Happens After I Agree to Representation From a Rosenberg, TX Personal Injury Lawyer?
After you agree to representation from a personal injury attorney at Houston Injury Lawyers, PLLC, your case will go through the following stages:
Investigation – Collecting Evidence and Establishing Liability
The first stage is to investigate your case, which involves preserving evidence and establishing liability. Your attorney will utilize the resources at their disposal to gather evidence, such as CCTV, medical reports, witness statements, and expert testimony.
This evidence will be used to establish who is at fault for your injuries and how much you are owed in compensation. The evidence will also be essential if your case goes to court.
Calculating Your Damages
Your attorney will decide how much you should be asking for in compensation by calculating your damages. This will include economic and non-economic damages.
Economic damages are those that have a clear figure attached to them, things like your medical bills, property damage, and lost wages. Many of these damages will have bills and receipts and are easily proven. However, if your injuries involve ongoing medical treatment and affected wages, then these will also need to be calculated and represented in your settlement.
Non-economic damages are known as pain and suffering damages and are not so easily quantified. They include compensation for your emotional and physical pain and loss of enjoyment in life. If, for example, you are unable to participate in the same hobbies you did before the accident, then this should be considered in your settlement.
Proving pain and suffering damages can be challenging, but your attorney will know how to evidence a figure which is hard to dispute.
Accepting a Settlement or Filing a Lawsuit
Once your attorney has established a settlement figure, they will offer this to the at-fault party's insurance. At which point they may accept it, submit a counter offer, or reject it entirely. You and your attorney will work together to try and come to an agreement.
If a fair agreement cannot be reached, then a lawsuit can be filed, and your case will go to court. At this point, your attorney will already have substantial evidence and will be prepared to go to court to represent your case.
Most cases never reach this point. Court cases can take a long time to settle, and so it is not usually in either party's best interests to pursue it. However, at Houston Injury Lawyers, PLLC, we are always prepared to go to court and will do everything it takes to secure fair compensation for our clients.
Do I Really Need a Personal Injury Attorney To Pursue a Claim in Texas?
In Texas, you are able to pursue a personal injury claim without an attorney. However, we always recommend that people secure legal representation.
Navigating Texas law can be incredibly complex, and your case could take years to reach its conclusion. There are strict legal processes and deadlines to be adhered to and paperwork that must be filed correctly. This can be incredibly stressful for those without experience in personal injury law.
You will be up against legally trained and aggressive loss adjusters who handle similar cases to yours on a daily basis. When you have reputable representation, you level the playing field.
A high-quality lawyer will take over your case so that you can focus on your recovery. They will use the skills, resources, and experience at their disposal to do everything possible to secure maximum compensation in your case. Even with legal fees considered, most people who secure legal representation result in a higher amount in compensation.
Rosenberg Personal Injury Lawyer FAQs
Contact Houston Injury Lawyers, PLLC Today
Our team of personal injury lawyers has a long list of victories for personal injury victims in Rosenberg and throughout Texas.
We are prepared to handle even the most complex cases and will fight tirelessly to secure just and fair compensation for our clients.
Call us today to arrange a free consultation at 936-251-5246.