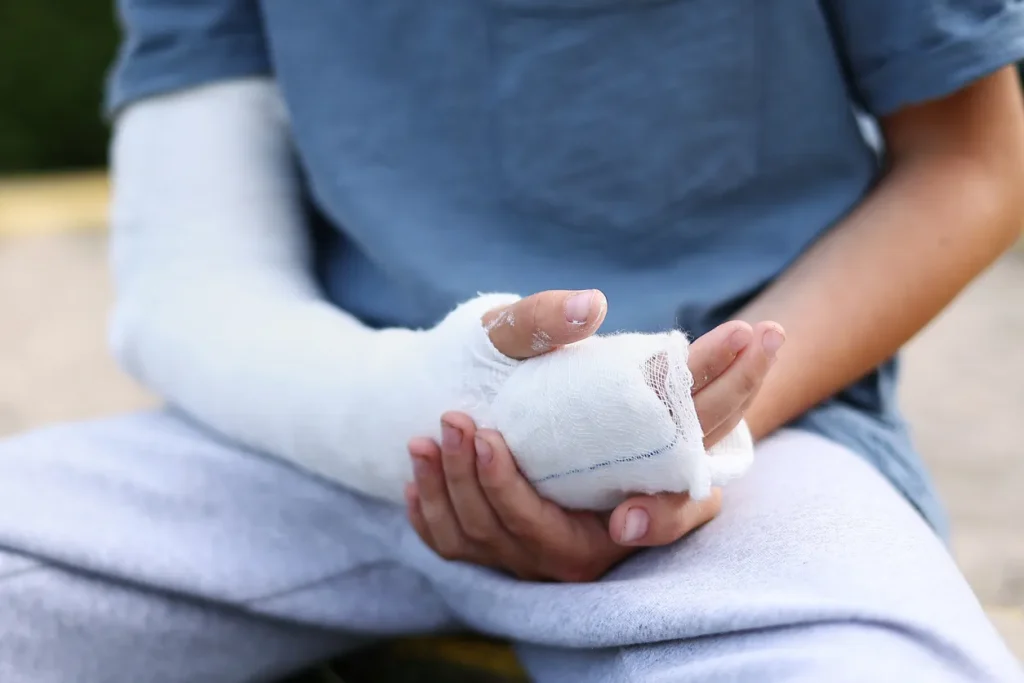 If you have suffered an injury because of someone else's reckless behavior, then you are probably dealing with a lot of stress. You may experience physical pain, loss of enjoyment in your life, missed time at work, and a mounting of bills that feels like they will never end.
If you have suffered an injury because of someone else's negligence, then you may be entitled to compensation. However, securing fair and just compensation is never easy.
Insurance companies are rarely willing to pay out a settlement that is truly representative of a victim's suffering. Instead, they require a victim to establish liability, provide evidence, and fight for what they are entitled to.
When you hire a Texas personal injury attorney from Houston Injury Lawyers PLLC, they will take over the process on your behalf and will fight tirelessly to secure maximum compensation in your case. They will usually handle all the legal paperwork, and negotiations, and will investigate your case so that you can focus on what's important, your mental and physical recovery.
Our Aldine personal injury lawyers even work on a contingency fee basis, meaning we take nothing upfront and only receive payment as a percentage of your settlement if it succeeds. If it does not succeed, then we don't receive anything.
We also offer a free, confidential consultation, so anyone can seek legal guidance when they need it most. To speak to an experienced personal injury attorney, call our law office today at 936-251-5246.
Steps To Take After Suffering an Injury Due to Negligence
If you have suffered an injury, then there are certain steps you can take to keep yourself safe and maximize your chances of securing maximum compensation. If your injury occurred some time ago and you have not followed these steps, then it is always worth speaking to a Texas personal injury attorney who can assess your case and determine whether you have a claim.
If you are dealing with the immediate aftermath of an accident, then here is some initial advice:
Step One: Prioritize Safety
The first step is always to prioritize your own safety. Check yourself for injuries first, and then anyone else who was involved in the incident if you are able to. If you have pain in your back or neck, you hit your head, or you fell from a height, then don't move until the paramedics arrive. If your injuries allow, move out of the way of any danger, such as oncoming traffic.
Step Two: Call Emergency Services
If there are any serious injuries, then you should call an ambulance. Paramedics will assess the severity of injuries, including those that may be masked by adrenaline.
If the incident involved a criminal act, then the police must also be called. It is also necessary to call the police to the scene of a car accident that causes personal injury, serious property damage, or involves a driver who could be driving under the influence of alcohol or drugs. The police report can often be an invaluable piece of evidence in your claim.
Depending on the circumstances, it may also be necessary to contact the fire department, such as if the incident involved fire, electricity, gas, or explosion.
Step Three: Collect Evidence
If your injuries allow you to do so, you should collect evidence from the scene. Photographs of the accident scene, your injuries, and any property damage can usually be important pieces of evidence.
You should also collect the names and contact information of anyone else involved or any witnesses. If you were in a car accident, then you should also note down the vehicle information of any other drivers involved in the crash.
Step Four: Seek a Medical Examination
If paramedics did not attend to you at the scene, then it is essential you seek a medical examination as soon as possible. The extent of your injuries may not appear straight away, and it is important that you do not do anything to worsen your condition.
Your medical report is also an integral piece of evidence for your personal injury claim, without which it will be very difficult to claim compensation. The sooner after the incident that you receive medical attention, the better, as it is often easier to prove that the injuries you suffered were a direct result of the incident.
Step Five: Write Down What Happened
Suffering an injury is often a traumatic experience, which can often make it difficult to remember exactly what happened weeks or months later. Therefore, it is a good idea to write down your version of events soon after the accident. The more details you can provide your Texas personal injury attorney with, the better. However, you should refrain from showing anyone else what you have written and should keep your case private while it is investigated.
Step Six: Car Accident Victims Should Contact Their Insurance Company
If you were in a car accident, then you may have a limited amount of time to inform your insurance company that you have been in an accident. However, you should keep details to a minimum and simply tell them that your attorney will be in touch. Any admission of guilt or minimizing of your injuries could affect your case's chance of success. Saying you feel "okay" or "fine" at the scene of the accident but hurting the next day, as is normal, is one example of a statement that will be used to minimize your injuries and pain and suffering.
When you hire a personal injury attorney, they will usually handle all correspondence with insurance companies to ensure that your rights are protected.
Step Seven: Contact Houston Injury Lawyers PLLC
After suffering an injury that wasn't your fault, you should contact a Texas personal injury attorney as soon as possible for a free consultation. They can often give you clarity about your next steps, and if they believe you have a valid claim and you agree to representation, they will often get to work quickly to protect evidence and maximize your chances of a fair settlement.
Determining Negligence in Aldine, TX
Personal injury claims are founded on negligence, which means that in order to successfully claim compensation, your attorney will need to consider all four elements of negligence. If your case goes to trial, then your attorney will need to be prepared with evidence to prove all four elements.
Element One: You Were Owed a Duty of Care
First, it is necessary to establish that the person who caused your injury owed you a duty of care. There are many reasons why a person may owe another a duty of care. For example, all drivers owe a duty of care to other road users, property owners owe a duty of care to visitors, and medical professionals owe a duty of care to their patients.
Element Two: The Duty of Care Was Breached
Next, your attorney will need to prove that the at-fault party breached their duty of care to you. A person breaches their duty of care if they act differently from how a reasonable person would in similar circumstances.
For example, if a driver runs a red light, then they have breached their duty of care to other road users. A reasonable driver would not run a red light. Another example could be a property owner who fails to warn visitors of a known hazard; a reasonable property owner would take measures to keep visitors to their property safe from harm.
Element Three: The Breach of Duty Caused Your Injuries
The third element is causation. In order to have a successful personal injury claim, the breach of duty must have directly caused your injuries. If a driver runs a red light and causes a crash which leads to another driver becoming injured, then this is clear causation.
Element Four: Your Injuries Led to Damages
Finally, your injuries must have led to damages, which you should be compensated for. Damages are the costs of your injury, both economic and non-economic, such as medical bills, property damage, and your emotional pain and suffering.
What Damages Are Recoverable in a Personal Injury Claim in Aldine, Texas?
The compensation you receive depends on the value of your damages. Some damages, such as your medical bills, are straightforward, but others require the skills, resources, and experience of an esteemed Texas personal injury attorney. It is important that your damages are considered beyond what is tangible, such as the future costs related to your injury and your emotional suffering.
Potential damages that make up your settlement figure include:
Lost Income
Following an injury, it is likely that you will be required to take time off work, resulting in lost income. You should be compensated for this, as well as the cost of future lost wages. If your injuries prevent you from continuing in the same line of work, then you could also attempt to claim compensation for lost earning potential and the cost of retraining in something new.
Medical Expenses
Medical expenses are often one of the biggest concerns for personal injury victims. Even those who are covered by a good insurance policy may find that their expenses soon exceed their policy limits.
An experienced personal injury attorney will fight for your right to seek compensation for all medical expenses, including hospital bills, medication, physiotherapy, transport to and from the hospital, and more. Indirect costs could also be considered, such as the cost of childcare while you are recovering.
It is also important that future costs are factored in. A law firm with experience in cases similar to yours may have experts they work with to provide evidence for the potential cost of future treatment.
Pain and Suffering
Pain and suffering damages compensate personal injury victims for their non-economic damages. Your physical pain and emotional suffering should be reflected in your settlement, including your loss of enjoyment in life.
Loss of enjoyment could include an inability to continue a hobby you once enjoyed or play with your child in the same capacity you did before. An experienced attorney will usually pursue maximum compensation for your pain and suffering damages and fight to ensure that your emotional suffering is considered.
One way of calculating pain and suffering damages is to take the cost of your medical expenses and use a multiplier that is reflective of your experiences. For example, if you have a broken leg that causes a serious interruption to your life for a temporary amount of time, then your attorney may be able to justify a multiplier of two.
Alternatively, if your injuries are going to create a life-long impact on the way you live your life, then they may be able to justify a multiplier of five.
Wrongful Death
If you have lost a loved one because of someone else's negligent behavior, then you could be entitled to wrongful death damages. Wrongful death damages should compensate you for funeral expenses, pain and suffering, and loss of income to a family household.
Punitive Damages
The damages listed above are compensatory damages, which means that they are designed to compensate the victim. Punitive damages, or exemplary damages as they are called in Texas, are different; they are a way to punish the perpetrator or discourage others from similar behavior.
Exemplary damages can only be awarded by a judge or jury, which means that if your case settles outside of court, then you may not have any possibility of claiming punitive damages. Even if your case goes to court, punitive damages are only awarded in cases where the at-fault party's behavior was reckless or grossly negligent.
Common Causes of Personal Injury in Aldine, TX
Our Aldine personal injury lawyers handle all types of personal injury claims, from car accidents to medical malpractice. The likelihood is that we have successfully navigated cases similar to yours in the past. This gives us a wealth of experience to draw upon.
We are also local to Aldine and may have worked with the judge overseeing your case before, giving us a clear advantage.
Motor Vehicle Accidents
These cases involve large insurance companies that are adept at lowering the value of claims brought against them. Therefore, it is important to have a car accident attorney to ensure your rights are protected.
The number of drunk driving accidents in Texas is shockingly high; in 2019 there were 914 fatalities as a result of drunk driving. Driving while under the influence of any substance is negligence; a reasonable driver would not get behind the wheel of a vehicle if they were incapacitated. Therefore, if your injuries were a result of a drunk driver, you should have a claim for compensation.
Slip and Fall Injuries
Personal injury cases involving slips and falls on someone else's property are also very common. For example, slipping on a wet floor in a grocery store, or falling from great heights on building sites, if the accident could have been prevented, then you likely have a valid premises liability claim.
Property owners have a duty to take reasonable measures to keep visitors safe. If they knew or should have known about a hazard and failed to act, it means that your injury was preventable, and you may be owed compensation.
Medical Malpractice Injuries
The United States has the most expensive medical care in the world, and so patients have a right to expect a high level of care from medical providers. When medical providers do not adhere to the standard of care expected of them and this results in an injury, then this could be justification for a medical malpractice claim.
Medical malpractice claims are often the most difficult to navigate; they require a substantial amount of evidence, and victims often face large and experienced legal teams who are working against them. A Texas personal injury attorney needs to be well versed in personal injury law, and they should have an understanding of the additional regulations around making a claim against a medical provider.
Some common examples of medical malpractice are:
Surgical Error – Surgical mistakes can often be devastating; any medical professional involved in surgery needs to act with a high level of care and attention. Some examples of surgical errors include being careless regarding a patient's allergy, anesthesia mistakes, unnecessary surgery, or cutting off a part of the body by mistake.
Incorrect or Delayed Diagnosis – Diagnosis is the first step to recovery, and when a doctor gives an incorrect diagnosis or fails to diagnose a condition in a timely manner, it can lead to a worsening of symptoms and sometimes irreparable damage.
Prenatal Care and Childbirth Negligence – The United States is one of the very few countries in the world where maternity mortality rates have actually increased in recent years. Many women and children suffer preventable injuries, and it is essential that these instances are brought to light to improve the level of care in the future.
Commercial Truck Driving Accidents
When commercial trucks are fully loaded with cargo, they usually weigh more than 20 times that of a standard car, which means that when they are involved in accidents, they are likely to cause considerable harm.
Trucking companies owe a high level of care to road users, which means that they are required to monitor their trucks, adequately train their staff, allow drivers to take regular breaks, and prevent drivers from working for an unsafe number of hours. They should take every measure to ensure the safety of their vehicles and their drivers.
If an accident occurs because of a problem with the truck, or an overworked driver, then the trucking company could be responsible for the victim's damages.
Trucking accidents often cause a considerable number of damages and large payouts. Therefore, trucking companies often have comprehensive insurance with large legal teams on their side. To stand the best chance of success, it is important that you level the playing field by employing your own Texas personal injury attorney.
Which Aldine Personal Injury Lawyer Is Most Suited to My Case?
After suffering an injury at the hands of someone else's negligence, it is important that you contact an Aldine personal injury attorney as soon as possible. However, you must also ensure that you take proper care when choosing the right law firm for your case. The right representation will have an impact on how much you receive in compensation.
It is important to know that a flashy ad or large billboard is not always representative of a high-quality law firm. A google search, recommendation, or advertisement could be a good place to start, but you should have a look at a law firm's website and seek a free consultation to get a feel for how experienced your potential attorney is and how suited they are to your case.
Some things to look out for include:
Past Victories in Similar Cases

– Your attorney should have navigated similar cases to yours in the past and successfully secured fair compensation for their clients. They should be able to evidence this with testimonials from previous clients.

Trial Experience –

Even if your case does not go to trial, it is important that your attorney understands personal injury trial law and is prepared to go the distance if necessary. If not, you could be left vulnerable. It is common for opposing attorneys to know which lawyers are willing to go to trial and which aren't, which can have a significant impact on how much they will offer.

Personable

– A personal injury case may take several years, which means that you could spend a lot of time with your attorney. You may also need to discuss personal details, such as how your injuries are affecting your life, physically and mentally. Therefore, you must feel that you can speak with your attorney openly and without judgment. In your free consultation, you will have an opportunity to speak with your attorney and determine whether they are a good fit for your case.

Time Management

– An experienced personal injury lawyer will likely have a full caseload. However, they should still make sure that every client is cared for and receives the dedication to their case that they deserve. Although you won't have 24/7 access, they should be prompt to answer your queries and take the time to keep you informed about your case.
Aldine Personal Injury Claim TimeLine
Once you secure representation, your personal injury lawyer will guide you through the claim process. Although every case is unique, they each follow a similar framework:
Investigation –

The first step is to investigate your case by collecting evidence, such as police reports, CCTV, witness statements, and medical records.

Determining Liability

– Using the evidence collected, your attorney will determine who is responsible for your injuries and, therefore, liable for your damages.

Calculating Damages –

Next, your attorney will determine how much your case is worth so that they can ask for a fair settlement.

Negotiating a Settlement –

Your attorney will ask for a settlement, which could be accepted straight away or challenged. Your attorney will work to negotiate a just settlement.

Litigate in Court if Necessary –

If the at-fault party does not accept a fair settlement, then your case could be heard in court. If this happens, your Texas personal injury attorney will litigate your case in front of a judge.
Aldine TX Personal Injury Lawyer FAQ
When it comes to fighting a personal injury case, we always recommend obtaining representation from a dedicated personal injury lawyer. Due to the large levels of compensation that have been awarded in the past, insurance companies now employ exceptionally skilled legal teams.
These legal teams spend every day fighting to devalue the claims of victims. This means that alone, you are at a massive disadvantage. To level the playing field, retaining an aggressive lawyer with a good reputation is the best move.
The time your case takes from start to finish will always depend on how complex the factors involved are. Serious injuries, numerous victims, unclear liability, and a lack of evidence can lead to drawn-out cases.
In simple, more straightforward cases involving few parties, lesser injuries, and clear liability, your case may complete quicker.
Expect your case to take at least 9-12 months, with many cases taking much longer.
Contact a Texas Personal Injury Attorney Today
At Houston Injury Lawyers, PLLC, we pride ourselves on our ability to provide aggressive representation on behalf of all accident victims, no matter what their circumstances. We take the time to listen to your story and endeavor to build a robust client-attorney relationship.
We draw upon a long history of successful cases that are likely similar to yours, giving us an edge when it comes to tailoring a bespoke strategy for your situation.
Contact our law offices today for a free consultation and case evaluation at 936-251-5246