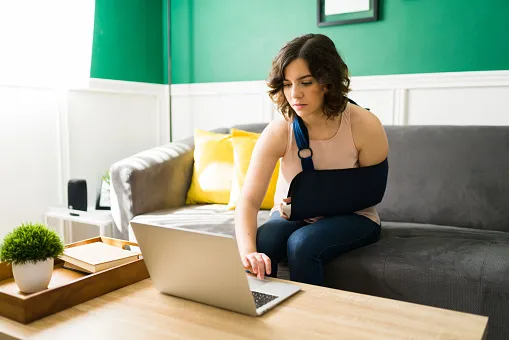 In Texas, if you have suffered injuries in an accident that wasn't your fault, you are entitled to seek compensation for your suffering and the recovery of all damages you have suffered. Nobody should be left financially unstable due to the negligent actions of somebody else.
In the aftermath of an accident, you may not only be dealing with physical injuries and emotional distress. You might be facing medical bills that are quickly rising and may have to take time off work, leading to a loss of income.
At Houston Injury Lawyers, PLLC, we are ready to help. Winning a personal injury case in Manvel, TX, is never easy, but with reliable representation behind you, your chances of success increase massively.
Don't settle for less than you deserve.
Houston Injury Lawyers PLLC – The Personal Injury Law Firm You Can Rely On
When it comes to navigating the personal injury arena, you need a team that has a long history of experience and victories. They will take over your case, investigating and building a strategy that ensures you receive the full and maximum compensation available to you while you sit back and focus on your recovery.
If you get in touch with us, we will assign a Manvel personal injury lawyer to your case. They will deal with all of your paperwork, will liaise with all parties, and will do the hard work, fighting against the insurance companies. If necessary, we will pursue your claim in court.
One of our core values  at Houston Injury Lawyers, PLLC, is that all victims should have access to reliable representation and should not have to forgo it because of their financial situation. In accordance with this ethos, we offer a free consultation to all victims. In this consultation, we will address your questions, evaluate your case and advise you on the best course of action.
If you agree to representation, we work on a contingency fee basis. This means it costs nothing to retain us, and we simply take our fees from your settlement if we win your case. If you lose or decide to walk away after the free consultation, you don't pay a penny. We don't get paid unless you get paid.  At the very least, you will be more educated and better informed than you were when you walked through our doors.
Get in touch with our team of Manvel, TX personal injury lawyers today at 936-251-5246 and arrange a free case review.
Am I Eligible to Raise a Personal Injury Lawsuit in Texas?
Most injuries caused by the negligence of another party make the victim eligible to raise a personal injury case, including:
Motor vehicle accidents, such as

car accidents

and truck accidents.

Injuries resulting from

dangerous and defective products

.

Dogs bites.

Workplace injuries.

Medical malpractice.

Offshore injury and maritime law.

Catastrophic injuries.
Hiring an Experienced Personal Injury Attorney
Obviously, the first and most important step of a successful Texas personal injury claim is to find a skilled and experienced law firm and to arrange an initial consultation with one of their Manvel personal injury lawyers.
This may seem like a difficult task, especially as many of our clients have never had the need for representation or an attorney before.
You should always do your research and try to avoid going for law firms based on flashy advertisements, like a billboard or tv ads. Many of the best law firms do not need to advertise, as they have a full caseload from referrals alone. Take the time to ask your friends and family for recommendations and to look at independent review sites of any potential law firm.
A full-service law firm should provide you with examples of their previous successes in similar cases to yours. They will also have positive reviews to show you from past clients.
Once you have found your preferred law firm, arrange a free consultation so you can get a feel for them yourselves. They should be personable and confident, and you should leave the consultation feeling happy with your choice.
A good attorney will always have a full caseload, so don't expect them to drop everything to answer your calls and queries. They should, however, make adequate time for each and every one of their clients, and you should never feel like you are being ignored.
Similar Values
It is important that you find an attorney who shares similar values to you. Personal injury cases can run over the course of several years, and you will be spending a lot of time with your attorney during this time.
At Houston Injury Lawyers, PLLC, our mission is to provide reliable, aggressive representation to those who have been injured through no fault of their own. We believe in justice, and fair treatment and will do whatever it takes to achieve them.
For example, Amber Stryk Skillern is one of our female founding attorneys. She is an exceptional trial lawyer and an aggressive litigator. However, when it comes to her clients, she has a gentle manner and will always take the time to educate and listen compassionately. This makes her an excellent choice for those dealing with mental distress and trauma following an accident.
The Personal Injury Process in Manvel, TX
Once you agree to representation from one of our esteemed personal injury attorneys, most cases will follow this framework.
Investigation
In any accident involving serious injuries, there will need to be a full investigation, and this is the first step. As soon as you have agreed to representation, your personal injury attorneys will utilize their network of resources and own investigatory skills to find as much evidence as possible to substantiate your claims.
They will look at all the evidence you have managed to provide, will track down and speak to any eyewitnesses at the scene, and they will search for CCTV footage and emergency service reports. If necessary, they may even engage crash scene experts to provide their input.
This evidence will make up the core of your case, and the stronger it is, the harder the other party will find it to argue.
Determining What You Are Owed
Your attorney will now need to consider what your damages are worth. To do this, they will start with your economic damages, such as your medical bills and property damages. These damages can be easily summed up as they have cost or will cost a tangible amount of money.
All relevant past and all future medical expenses may be recovered. That means the medical costs you have suffered will be considered, and if you are going to require long-term treatment, all future medical costs will be considered too.
You may also be able to recover lost income. This means if you have had to take time off work because of the accident, you can claim this back. It also means that if you have to take time off in the future, or you can never return to work in the same capacity ever again, your attorney may decide to pursue compensation for a lifetime of lost wages on your behalf.
Then they will look at your non-economic damages, such as your pain and suffering. These cover the suffering you have been through, mentally and physically, such as:
Mental anguish.

Loss of enjoyment in life, i.e., an inability to continue with hobbies you once enjoyed.

Physical pain.
The more experience your attorney has in cases similar to yours, the better they will be at calculating your damages in a fair and reasonable way. The more reasonable they are, the more difficult they are to dispute. This makes it more likely that you receive a settlement that is fair and makes your claims difficult to argue with if your case moves to the courtroom.
Filing a Lawsuit
If your attorney can not reach an agreement with the other party, then they may take your case to court. Your attorney will be prepared to represent you in court using the evidence they have attained throughout your case.
What Classifies as Negligent Behavior
Personal injury cases are generally based on the underlying premise of negligence. During your initial case evaluation, the questions your potential attorney will ask will be to help them decide if there was negligence involved. This is because they will be expected to prove this negligence if the case goes to court.
Negligent behavior is behavior that is different from reasonable. That means if a normal, reasonable person would not do the same thing in the same situation, the behavior may be negligent.
An example of negligent behavior is running a stop sign and causing a car accident. A reasonable driver following the rules of the road would have stopped at the stop sign.
Four Elements To Prove
In order for your case to be a valid one, your attorney will attempt to prove four elements.
They are:
Duty of Care –

For someone to act negligently, they must owe you a duty of care at the time. There are a lot of different situations where someone owes you a duty of care. Anyone who gets behind the wheel of a car assumes a duty of care to all other road users. Medical providers owe their patients a duty of care, and property owners owe a duty to anyone who is on their property.

Breach of Duty –

Negligence happens when the party breaches this duty of care to you by acting in an unreasonable manner. If someone is driving under the influence of alcohol and crash into your car, they have breached the duty of care. A reasonable person would not drive while under the influence.

Causation –

This means that the negligent behavior can be directly proven to have caused you the injuries you have suffered.

Damages –

The injuries you have suffered must have directly caused the damages you have suffered, such as a loss of income from time off work or medical expenses for treatment.
Do I Really Need a Personal Injury Lawyer?
Under Texas law, you have the right to seek compensation for your injuries by yourself. This does not, however, mean it is a smart idea.
Many people will avoid seeking representation and opt to seek compensation by themselves as they are under the common misconception that they will wind up with less money because of attorneys' fees that are taken out of the settlement. This simply isn't the case in the majority of claims.
An experienced attorney will maximize your compensation and will increase the chances of settlement. Even with their fees deducted, in most cases, the amount won with an attorney is high enough that the client walks away content with the results. Remember, an attorney cannot settle your case without your approval and a good personal injury lawyer, like the attorneys at Houston Injury Lawyers, PLLC, will always advise you of the net value to you of any proposed settlement after fees, expenses and possibly any potential medical liens. 
Personal injury claims can take several years to complete or settle. During this time, if you are fighting alone, you will be expected to push the case, fill in all the paperwork, attend hearings and court, and fight against the other legal team all by yourself.
The insurance company on the other side of the table will most likely have a legal team that is used to fighting cases like this. That puts you at a massive disadvantage.
Simply obtaining representation from an attorney with a good reputation can be the difference between whether or not the other party accepts your settlement offer.
Statute of Limitations in Texas Law
While we always recommend that people get in touch as soon as possible after their accident if they want to make a claim, it is also worth noting that under Texas law, you generally only have two years from the incident to make a claim.
You should never wait this long, as the sooner you get in touch, the better your chances of success are.
Manvel Personal Injury Lawyer FAQs
Contact Houston Injury Lawyers, PLLC Today
The personal injury attorneys here at Houston Injury Lawyers, PLLC, have an experience that has been gained through hundreds of successful cases. This gives us an advantage when it comes to tailoring a bespoke strategy for our clients, as we have most likely dealt with cases just like yours before.
We keep our clients educated and informed, and this approach to the attorney-client relationship, paired with our aggressive representation, is the reason we have such a stellar reputation.
Call us today at 936-251-5246.